Joel Creasey and Rhys Nicholson Head to the Country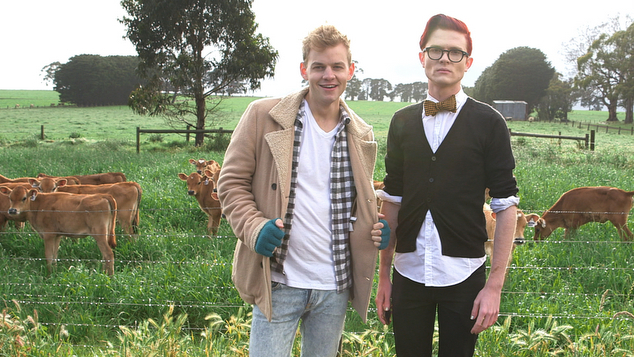 Comedians Joel Creasey and Rhys Nicholson team up to investigate rural homophobia in 'Gaycrashers'. It's part of ABC2's 'Opening Shot', a series of half hour documentaries from Australia's best emerging artists in the form.
'Gaycrashers' sees the partners in comedy take their frank and fearless comedic stylings to the rural Victorian town of Colac, where Creasey suffered homophobic abuse on two previous occasions. In the most recent incident, which became part of Creasey's comedic repertoire, he was chased away from a gig by a group of people yelling homophobic insults. The comedian inadvertently brought the town of Colac into the media spotlight for all the wrong reasons when he told the sorry tale on Twitter.
Now, he's back to see if the town of Colac is well represented by the angry mob that chased him out of town three years before. With his contemporary, the hilarious and snappily dressed Rhys Nicholson by his side, he aims to meet the locals and find out what they think of homophobia in the community.

Rhys Nicholson chatted to OUTinPerth about his Colac adventure, and what he learned in the process: "If I'm honest I think I went in pretty judgy, I think. Kind of expecting what I thought it was going to be. I grew up in Newcastle… I've kind of got experience in that situation. I kind of expected it would be a town of bogans. You have to watch it to find out whether it is. Spoiler! "
Creasy and Nicholson get to know the locals by working various locations in the town, including a memorable trip to a cattle farm. Oddly enough, Nicholson's hands-on approach to cow insemination wasn't the most outrageous thing to happen that day. "That was so weird for me as well because that day I didn't know that we were doing that until we got there. In your head you go 'Ok, well, in this day's filming, that's gonna be the funniest thing that's going to happen. I'm going to fist a cow, and it'll be comedy gold.'" Nicholson said. "Things happen on a shoot where you think 'Oh, I'm going to be funniest part of this day and then something totally unexpected will happen.'"
What hijinx occurred during this bovine insemination mishap? You'll have to tune in to find out. 'Gaycrashers' has all the city-kids meet farm life fun of an early episode of 'The Simple Life', only this incarnation of Paris and Nicole is far better dressed, funnier, and has something to prove.
'Gaycrashers' is on ABC2 at 9.30pm on Monday November 10th as the first episode of 'Opening Shot'.
Sophie Joske