Songbird Flies Familiar Path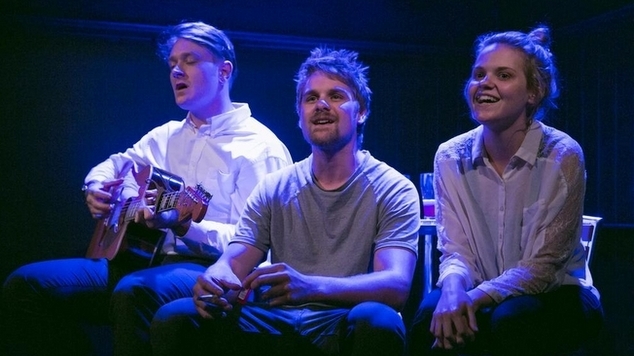 'Songbird' a play written by Shakara Walley is currently playing at The Blue Room. Walley had great success with her direction of 'Confessions of a Pyromaniac' last year at the same venue, but her first outing as a writer delivers mixed results.
One of the great challenge of performing at The Blue Room is to create a new world in a very small room that most of the audience have already seen dozens of plays performed in. Patrick Howe's set design for this show turns the space into something special.
We enter a room filled with small round tables and chairs, a bar is to one side and a man sits  with head on the bar, a girl is on a small stage in the corner playing her guitar and singing. It's a marvelous setting that instantly transports us into a country pub.
As the young girl Brooke (Bethany Cooper) finishes her set she spots a recognisable face in the crowd, Leon (James Taylor) is back in town and the pair grab a drink and discuss what Leon's life in Perth has been like, and how the small community they both grew up has changed.
The pair reminisce about their teenage years and the times they both spent hanging out with Brooke's brother Mike. Through a series of flashbacks we find out more about the camaraderie between the trio as we slowly lead up to a tragic event that shattered their lives.
'Songbird' is a show that has many positive qualities but also a few drawbacks. Bethany Cooper delivers a great performance as Brooke managing the mix of acting and singing. Zac James who plays elder brother Mike also delivers a nuanced performance. James Taylor's acting however, at least on opening night, felt a little clunky and did not feel natural.
The show moves along at a good pace, but ultimately this is a story that is a tad predictable and felt slight melodramatic. Walley has created a great setting with interesting characters – the conflict between those who stay in remote communities and their contemporaries who head to the big cities. It would have been great if their journey took us to something we weren't expecting.
Songbird is playing at The Blue Room  
Graeme Watson, image: Jamie Breen