Spend Mother's Day with Marina Prior and David Hobson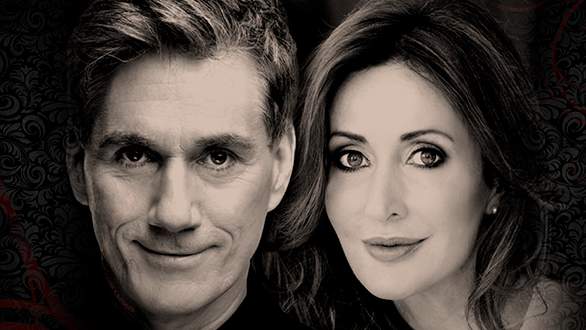 Marina Prior and David Hobson have been delighting audiences with their show The 2 of Us, and their Perth date just serendipitously happens to fall on Mother's Day.
The pair will be playing a perfectly timed matinee show at The Astor Theatre on Sunday 13th May at 2pm, accompanied by renowned pianist David Cameron.
In a two-hour intimate performance, Marina and David will perform their classics from productions such as The Phantom of The Opera, Les Miserables, West Side Story, Guys and Dolls, Chitty Chitty Bang Bang and La Boheme, to name but a few, as well as favourites from their award-winning albums.
OUTinPerth had a phone hook-up with the two singers ahead of their show, a conversation that took an unexpected turn into culinary pursuits.
You're going to be here for Mother's Day, that's got to be the best Mother's Day outing in town.
David: Couldn't think of anything better, Actually Marina – you could bring a quiche.
Marina: I could bring a quiche. I making a quiche at the moment, that's why he's saying that.
David: She's using her Thermomix, while I speak she's Thermomixing.
Marina: I'm multi-tasking.
This show your bringing to Perth promises to be filled with all the songs we love, how do you go about putting it all together?
Marina: Yes we sing lots of songs that you love, we do the big mega-musical songs stuff from Cats, Les Miserables, Phantom of the Opera.
David: There's a bit of opera, some classical stuff. We do such a wide range, because Marina and I – apart from having been in the biz for 35 years – 70 years collectively – we have a love of all different types of music.
We do a lot of Celtic and folk music, and singer song-writer music too, because before we both got into musical theatre and opera, I was into rock, pop and jazz. Marina was a busker, she used to sing folk music. So we embrace many many musical styles.  We're not musical snobs.
Marina: We do  a lot of chatting too, there's a lot of laughter, and a lot of stories. I think that is what the audiences are really responding to, the fact that we're not in a formal setting. It's very up-close and personal and informal.
David: They're used to seeing us masked, and we are masked, people usually see us with make-up and costume and behind characters. The fact that we're good friends and we can relax on stage and treat the audience like they're in our lounge rooms. It's an alarmingly disarming show.
What is about the world's of opera and musicals that you both love? Why has this been your realm rather than making rock albums?
Marina: I'd call myself an actor first, almost. That then infuses the way I sing, and I think Hobbo is the same, we both love acting and love the art form of creating a character and losing yourself, immersing yourself in another personality. That's the beauty of musical theatre.
Also, it's the kind of voice you have, I just don't have a rock 'n roll voice.
David: It's also true in musical theatre and opera, it's about working with other people. It's such a collaboration, which I think you can do in a rock album too, but its a much tighter thing. I must confess I do love making CDs as well.
The songs from musicals and operas, almost always have a story behind them, when you do a show which has songs from lots of different works, how do you make that emotional journey, switching from one to another?
Marina: That's what you get from 35 years of doing it, that's what the acting part of it is, I think in both opera and musical theatre you learn how to snap in and snap out of it.
Do you still have dream roles you want to play in the future?
Marina: Oh yes, there are lots. I'd love to the witch in Into the Woods, I love to do Sweeney Todd. There are lots. There's always stuff I'd love to play.
David: Because I've only done a little bit of musical theatre, so much more of my career has been in opera, there's lots I'd love to do. I'd love to be in My Fair Lady, I'd love to play Higgins one day.
Marina: Fagin from Oliver!
David: I would love to do Fagin, and Because I've only done one Sondheim Follies, I'd love to do more Sondhiem characters. If I was a baritone I'd love to Sweeney Todd because I reckon that's the greatest. It's almost an opera in a way – it's musical theatre at it's best, but I'm not a baritone so I can't do that one.
Opera's a bit more forgiving in your looks and age not having to match the role.
What will people be surprised about with this show?
David: There's lots of surprises but we don't want to give them away.
Marina: I think people are surprised by the Celtic numbers, we sing a lot of Scottish and Irish songs, people really love them and they're not expecting us to do them.
People have expectations, there is an image, especially of you Marina, that you're always in a giant ball dress. Does that frustrate you.  
Marina: I'm wearing one right now.
David: Absolutely – it's the only way I drive my kids to school. It's a private school – are you kidding.
Marina Pryor and David Hobson's The 2 of Us will be at The Astor Theatre on Sunday May 11th at 2pm. Tickets available via Ticketek.
Graeme Watson
---