Study highlights health problems related to chest binding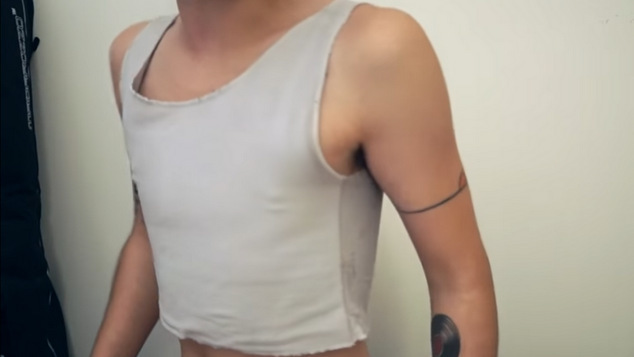 A new study has highlighted health problems associated with trans-men wearing chest binders. The Binding Project at Boston University in believed to be a world first.
The practice of chest binding to create a more masculine appearance is well know within the queer community, but medical professionals and the general pubic are less informed – which leads to a lack of information about what is the best practice.
Many people are forced to search online for information and guidance and YouTube videos have become on of the most common places for people seeking knowledge. Now a research team have published the findings of a large survey they conducted.

Published in Culture, Health and Sexuality: an International Journal for Research, Intervention and Care, the study is based on anonymous interviews with 1800 people who had experiences in binding their chests.
Of those taking part in the survey 51.5% reported that they bound their chests every day, and 97% of participants reported at experiencing at least one of 28 identified discomforts.
The people in the study were from 35 different countries, but predominately from the United States. The majority of them identified as trans-masculine and 86.9% of participants had not undergone chest surgery. 66.6%. of participants planned to have chest surgery in the future.
Overwhelmingly people said chest binding had a positive effect on their mental health with decreases in suicidality, anxiety and dysphoria and increased self-esteem, confidence and ability to go out safely in public.
The ways the participants bound there chests was varied. The majority reported using a commercial binder (87.2%). Sports bras (33.1%), layering shirts (24.0%), layering multiple sports bras (18.6%) and using elastic or other bandages (16.5%) were the next most common methods.
Regardless of which method people used there was no difference to the level of health challenges binding caused.
97.2% of participants reported at least one negative outcome they attributed to binding.
The most commonly reported outcomes were back pain (53.8%), overheating (53.5%), chest pain (48.8%), shortness of breath (46.6%), itching (44.9%), bad posture (40.3%) and shoulder pain (38.9%).
Of the categories examined, skin/soft tissue and pain symptoms were most common, with 76.3% of respondents reporting any skin/tissue concern and 74.0% reporting any pain-related concern.
Factors influencing the level of discomfort experienced include how often people were binding, how long for and the size of their breasts.
Surprisingly, commercial binders were the binding method most consistently associated with negative outcomes (20/28), followed by elastic or other bandages (14/28) and duct tape or plastic wrap (13/28).
The authors of the study note that their findings that commercial binders cause the greatest problems are not inline with what is most commonly recommended for transgender people.
They state that their study lacked sufficient detail about participants' binding practices to determine if binders are uniformly risky, or if practices such as wearing multiple binders or overly tight binders drove the heightened risk associated with binders in this study.
Elastic and other bandages, duct tape and plastic wrap were all commonly associated with negative health outcomes, a finding consistent with existing community recommendations against their use.
Sports bras, layering sports bras and neoprene or athletic compression wear were the binding methods least commonly associated with negative outcomes, and therefore may be the safest options for binding.
The researchers said they hoped their study would give clinicians a better understanding of people's experiences of using binding methods and strongly argue that the positive mental health aspects should not be dismissed when discussing binding with their clients.
The authors also note that for the majority of people biding is a temporary activity undertaken until they have chest surgery, but the cost of this procedure is prohibitive to many people.
YouTube star Ryan Cassata recalls his binding experience
Singer and popular video blogger Ryan Cassata spoke about his experiences of chest binding in a video he produced back in 2015.
While Cassata gave away most of his binders after he had surgery, he kept one which he uses during talks with community groups and high schools students.
To recall what it was like to have to wear a binder everyday Cassata puts on his old binder. He notes how hard it is to put on the garment and the tightness it causes across his torso.