Suede released their self-titled debut album 30 years ago today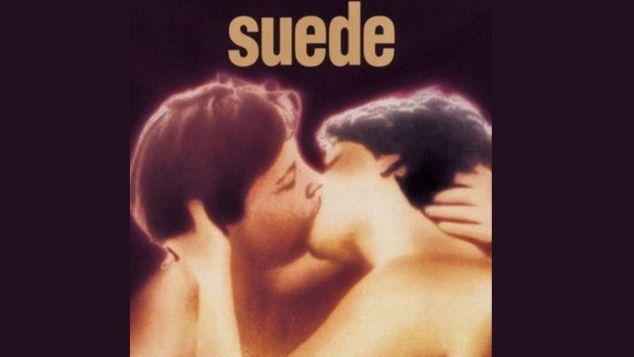 British band Suede released their debut album on this day 30 years ago, and its ambiguous androgynous cover certainly got people's attention.
One of the leading bands of the Britpop movement, the rock outfit had built a lot of anticipation about their debut album ahead of its release with the single Mental Mickey, Animal Nitrate and The Drowners. 
With their unique blend of glam rock, punk and pop the band were the darlings of the British music press and their first release garnered critical acclaim and a legion of dedicated fans. Before they'd even released their first single music magazine Melody Maker had already declared them the best band in Britain, solely based on their live shows.
They lived up to the hype though, when the album came out it, it went straight to the number one position on the British charts.
They were also awarded the 1993 Mercury Music Prize, among the other nominees were Sting, New Order, East 17, and PJ Harvey. In 2013 when NME compiled their list of the 500 Greatest Albums of All Time, Suede's debut record came in at an impressive number 78.
The band was fronted by the androgynous looking Brett Anderson, and included guitarist Bernard Butler, bass player Mat Osman and drummer Simon Gilbert. The band's songs included sexually charged lyrics and there was a lot of speculation about Anderson's sexuality.
Famously Anderson declared that he was "a bisexual man who never had a homosexual experience." The following year in an interview with Attitude magazine drummer Simon Gilbert came out saying "I've called myself a bisexual person who's never had a heterosexual experience".
When OUTinPerth interviewed bass player Mat Osman back in 2018 he recalled that to them the decarations about sexuality did not seem groundbreaking.
"When we started, if you made music in London then your part of the gay scene, because that's where music breaks in London." Osman said.
"They were always the first community to get interesting bands, they were always the first community to start interesting clubs. If you came to London culture was sort of half-and-half gay and straight culture.
"All we wanted to do was be really inclusive, what we're just singing about the big emotions, love, fear and loss – the effect for everyone's the same. It didn't feel groundbreaking to say these songs are for everyone.
"We've always involved ourselves in gay rights issues, but the simplest thing was just about trying to make something that touched people and not caring about who those people were. It didn't feel like we were being groundbreaking it was just us representing the world we were from." Osman said.
The albums cover art featured a photograph by Tee Corinne that had featured in the 1991 book Stolen Glances: Lesbians Take Photographs.
The image features two women naked women kissing, one of them is a wheel-chair user. The band had wanted to feature the entire image, but the artist would only give them permission to use a cropped image of the women's heads and shoulders. In its cropped form the gender of the two people is ambiguous, making the cover a talking point amongst fans.
Suede worked with producer Ed Buller to create the record, he'd previously worked with British bands The Boo Radleys, The Primitives and Lush. He'd go on to work on records with other bands including Pulp and Slowdive, but much of his career has been in Australia where he's producer records for Eskimo Joe, Ben Lee, The Superjesus and Alex Lloyd.
Buller has also produced five more of Suede albums, following on from their debut they've put out eight more records over the following three decades. Over the years they've had a few line up changes, guitarist Bernard Butler decamped after the band's second album and launched a successful solo career.
The band went on hiatus in 2003, but promised fans there would be more record in the future. They kept their word, reforming in 2010 for a one-off gig, but soon they were touring and playing new songs. They headed back to the studio in 2013 and since reforming have released four more albums, the most recent being 2022's Autofiction. 
Happy Birthday Suede!
OIP Staff
---

You can support our work by subscribing to our Patreon
or contributing to our GoFundMe campaign.