Suzanne Worner is hoping to be the next Mayor of Vincent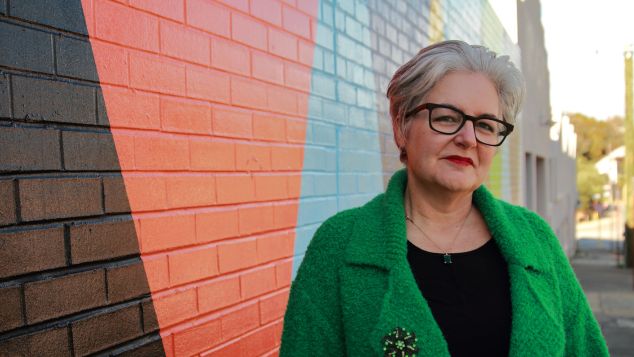 Western Australia's local government elections will take place on Saturday 21st October.
Suzanne Worner joined the City of Vincent Council in 2021 and now that incumbent Mayor Emma Coles has announced she is not seeking re-election, Worner has launched her campaign to be the city's next leader.
After a three decade career in media, which included twenty years at the ABC, Worner joined the team at the Revelation Perth International Film Festival becoming their General Manager. She chatted to OUTinPerth about why she wants people's votes.
Why do you want to be the Mayor of Vincent?
I have lived in Vincent for over 20 years and the main reason is our sense of community. To have the opportunity to be a part of the leadership of that community is an absolute honour. This is where I choose to be, where I choose to work, where I raised my family. I want nothing but the best outcomes for our community.
What have you learned since joining the council?
That you can't please all the people all the time. That's the hardest thing – you want to make everyone happy but every decision has an impact. I have to be open minded and make a call that will benefit the community best, not just the loudest voices.
The other thing that has become obvious is how differently people engage with their Local Government. Some are completely across every aspect of every decision whilst many are simply content with things as they are. It's to those voters that I ask to cast their ballot.
Voting is not compulsory and unless you are prepared to stand up for what you like, it may well be whipped away. This is especially important with this election because – for the first time – we have preference options. I urge you to vote and cast your preferences in the best way (and I'm happy to make suggestions!).
What would be on your list of things to achieve if you got the endorsement from voters?
This may sound very dry, but the key document Council works to is the Strategic Community Plan. This is a ten year plan, updated every two years. It has been compiled with intense consultation and seeks to capture the aspirations and values of the residents, businesses and visitors to Vincent.
This was updated earlier this year – it's fresh and ready to roll – let's get to it. That said, I'm also very keen to hear any new ideas and suggestions so we can address emerging issues and improve what, where, how and why.
Some say local government is about roads, rubbish bins and rates. Where do you see the boundaries of responsibility?
The Council can set the tone of the community. It influences how the residents, businesses and visitors engage with each other. How we present ourselves, what we value, how we wish to retain our culture and look to the future.
If Councils just stick to the three Rs then there will be no local events, no advocating for better solutions, no forward thinking and no consideration of the impact on the community.
What have you heard from local people as you've been out door-knocking and pounding the pavement?
There's no substitute for pounding the pavement. I'm making mental notes about pavements, parks etc that need attention and I'm meeting people from all walks of life.
The one thing that has become most apparent is that there is no ''one size fits all'' solution. The lifestyles and expectations in some parts of Vincent are vastly different in other parts. They're both just as valid but we need to tailor consultation and answers to the specific areas we are focussed on.
In general though, people are keen to have a Council who is honest and transparent, who is looking ahead to face the challenges yet to come and is prepared to listen to the current concerns. They want – and deserve – a cohesive group of people to represent them.
For voters who haven't ever met you, how would you describe yourself?
Firstly can I tell you what I'm not? I'm not aligned with a political party or a local business group with its own agenda.
I am fiercely independent and deeply resent any suggestion otherwise. I wear my arts hat with pride and have been involved in numerous art events across Perth. My focus is to make these experiences accessible, to use them to educate and to create safe spaces for people from all walks of life.
I wish I was more polished looking with long flowing hair and designer clothes but the reality is I really am not wired to put my efforts into that. I am much more down to earth and what you see is what you get. I am honest, I am a hugger and if you tell me a sad story I'll probably burst into tears.
I'm not the creative, I am the organiser. I'm intensely curious and take great pleasure in discovering new worlds. My currency is stories – capturing stories, saving them, sharing them and learning from them.
What has been the toughest decision you've had to weigh up since becoming a councillor, how do approach making a decision?
Can I say they are all tough? Every decision will impact on someone's life or business.
When I receive the briefing notes, I visit all the places and look them over for myself. Sometimes I meet the people involved, sometimes it just really serves to give me a real sense of context.
I go into our briefing sessions with my own queries and take such value from the questions the other Councillors also pose about things I hadn't considered.
I enter our decision-making meetings with an open mind and listen intently to the debate and to any submissions made by the public. I make my call based on the facts, the policy framework and what I can honestly see as the best outcome for the community. Ultimately, I have to deal with my own conscience and that can be the biggest challenge.
Who are your leadership idols? Who has inspired you in the past?
We've had terrific leadership with our current and past Mayors and I'm keen to continue with the progressive theme. Our world is constantly changing and its imperative that we are ready to face the challenges as they arise. It'd be great to simply sit back and enjoy the serenity but we really can't afford to not be alert and prepared.
I admire any leader who can retain their empathy, their humour and their humanity.
Details of how to vote
Most local governments elections in WA will be conducted as postal elections. All enrolled electors will be mailed an election package (ballots) in the post. These should be filled out, signed and returned by reply-paid post (or hand delivered to the local government office) by 6pm Saturday 21 October.
There are however eight jurisdictions which run in-person voting. These are Broome, Cambridge, Cocos (Keeling) Islands, Cranbrook, Derby / West Kimberly, East Pilbara, Menzies, and Serpentine Jarradale.
Graeme Watson 
---

You can support our work by subscribing to our Patreon
or contributing to our GoFundMe campaign.