Top tips for getting the most out of Mardi Gras
This weekend will see the fabulous Mardi Gras celebrations in Sydney come to a crescendo with the epic parade down Oxford Street and massive after party at the Horton Pavilion.
Psychologist Colin Longworth offers some helpful advice on how to best mentally prepare yourself for the celebrations and some tips on to make sure you have a smooth re-entry to everyday life.
---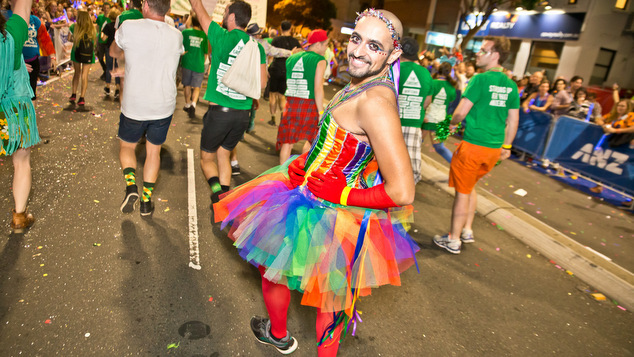 For many young (and possibly some "not so young") people, going to the Sydney Gay and Lesbian Mardi Gras is a 'rite of passage' or a way of connecting, or reinforcing a connection with our LGBTI community.
Particularly if new to a LGBTI life, being a part of the huge crowds arriving in what's been called the 'Gay Capital of the South Pacific' can be quite a culture shock.  Although we LGBTI people make up about 10% of the population. At Mardi Gras time in Sydney, it's reasonable to assume we make up much more than the usual percentages.
While I can't put a figure on it, I'm sure there will be those who leave Perth or a regional centre or country town, who come from settings where they need to be constantly aware of what they say or do, how they talk, dress and behave.
In other words, they are constantly 'self-censoring'. People in those sorts of situation are those who are of greatest concern.
Coming back to 'provincial' Perth or somewhere even less comfortable with diversity can be a test.  So, what can be done to reduce the culture shock? Some suggestions would include:
Try to see some of the other sights Sydney has to offer away from 'the scene', so your memories are not just of the Parade, Party and other nocturnal activities.
Be aware that any Mardi Gras photos posted online are there forever, it is extremely difficult -if not impossible – to remove those 'incriminating or embarrassing' photo's once they are posted. (i.e. those one's you wouldn't want your family, friends, employer, partner, etc., to see)
Difficult and tempting as it may be, try to avoid overindulging in alcohol, drugs, and or sex while you are there.
Remember that overindulging in alcohol or drugs, can mean your defences are lowered and you are more likely to engage in activities that could result in you coming back home with more than you bargained for – one or more STI's that can last much longer than a hangover.
Always practice SAFE SEX while on holiday – STI's don't take a holiday and neither should you in terms of protecting yourself.
Plan to catch up with supportive friends as soon as possible after your return.
Try to have a break away from Mardi Gras. Chill out before you return home – going to work or study looking and feeling like Death Warmed Up may negatively colour your memories of Mardi Gras.
Finally –  Enjoy yourself! Mardi Gras time in Sydney is a magical time of the year and at least for the first time may be a life-changing event!
Colin Longworth, image Hamid Mousa
Colin is a Psychologist in private practice as well as having been a volunteer phone counsellor with Living Proud for decades. (He's also been to Mardi Gras a few times!) Find our more about his work.