Tasmanians call on Malcolm Turnbull to speak out on Chechnya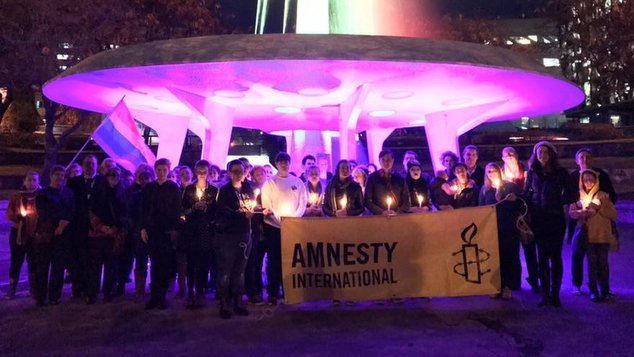 Tasmanian human rights advocates are calling on Prime Minister Malcolm Turnbull to speak out against the detention and torture of gay and bisexual men in Russia's Chechen Republic.
Last night community members gathered in Hobart for a candlelight vigil for those who have been detained, tortured and reportedly killed in the Muslim region of Russia.
Responding to recent reports of gay and bisexual men being incarcerated, tortured and executed, about 60 people gathered at Hobart's Railway Roundabout Fountain for the vigil.
The event was organised by Finnian Burmna and Sarah Liverstone from Queer Youth of Tasmania, as well as by Amnesty International.
Speakers Sarah Livingston, Finnian Burman, Andrew Badcock and Rodney Croome all called for greater government action to end the persecution.
Finnian Burmna said it was time the Australian government took notice of the issue that was a concern for many.
"This event holds great meaning to the local LGBTI community, as it gives us a way to feel hope in the face of a hopeless situation. I'd like for this vigil to spark national conversation about human rights, and for our government to take notice."
Sarah Livingston told the crowd she had organised the event to draw greater attention to the issue.
"I was committed to organising an event for Chechnya, because I consider the LGBTI community my family, and it disgusts me that members of my family could be treated this way with no repercussions."
Respected LGBTIQ+ rights campaigner Rodney Croome said it was time Malcolm Turnbull added his voice as other international leaders had done.
"This vigil sends a message to Malcolm Turnbull that he must join other heads of government like Justin Trudeau and Angela Merkel in condemning the cruelty of the Chechen Government and the indifference of the Kremlin." Croome said.
"Too many people across the western world and right here in Tasmania have given up on the ideals of justice and equality and increasingly admire authoritarian regimes that trample human rights. Our message to them is that every human being has inalienable rights and dignity no matter our sexuality or gender identity and no matter where we live."
About sixty people are reported to have attended the vigil at Hobart's Railway Roundabout Fountain. Tasmanian young queer performer, Alex DuckBox, provided music. The Hobart City Council lit the fountain in rainbow colours for the event.
A similar event held in Melbourne earlier this week when hundreds of people gathered in Federation Square and called on the Australian government to voice stronger opposition to the attacks on gay and bisexual people.
While other leaders such as British Prime Minister Theresa May, German Chancellor Angela Merkel and Canadian Prime Minister Justin Trudeau have urged Russia to investigate the claims that men were being detained and tortured, Australian's Prime Minister has remained silent.
Foreign Minister Julie Bishop has confirmed that her department has asked the Russian government about the reports to ensure that no Australians living in the region were effected.
Bishop is currently at the United Nations in New York lobbying for Australia to gain a seat on the UN's Human Rights Council.