The Australian's 'gender page' has been nominated for a GLORIA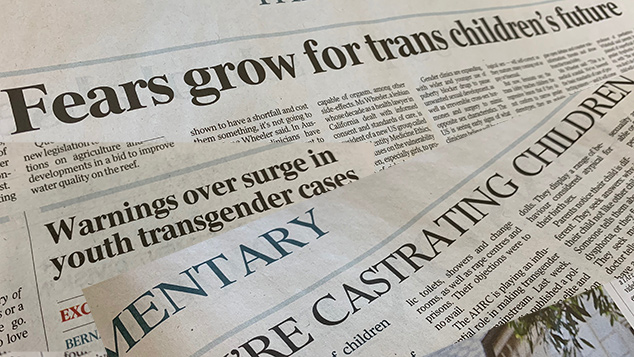 The Australian newspaper's online 'Gender" page has been nominated for a GLORIA award. The annual awards highlight homophobic and transphobic comments and actions across Australia.
The newspaper launched the new page dedicated to their coverage of gender issues, primarily transgender health treatments, at the start of the month.
Also among the early nominees are former Prime Minister Tony Abbott for his attempt to claim credit for bringing about marriage equality despite being a vocal opponent of it during his long political career. In the international section Philippines President Rodrigo Duterte has got a nomination for claiming that he 'cured' himself from being gay.
In the sports category it appears that rugby player Israel Folau has lead the nominations to date making him the hot favourite to win.
The annual awards ceremony highlight outrageous, ignorant and ridiculous comments made about our LGBTIQ citizens.
Celebrating their 10th year the annual awards ceremony is organised by NSW politician Penny Sharpe, and the awards are given out in a fun evening that raises money for charity.
Awards are given out in the categories of media, religion, anonymous idiots, politics and sport (short odds on that category this year) Plus there's also an award for a the silliest comment made by our own community and there's recognition for a Good Gloria – a positive comment that someone has said.
NSW MP Penny Sharpe who founded the awards said even after ten years of running there's still no shortage of dubious comments in the public discourse.
"Ten years in, the GLORIAS are not struggling to find examples of the ignorant, ridiculous, outrageous and downright dangerous things people in public life say about the LGBTIQ community." Sharpe said.
" The GLORIAS are not about turning the other cheek, we are maintaining the rage and taking an evening to come together, stand on the table and point at these comments and give them the derision they deserve. All among friends with drinks and canapes."
The night's ultimate award is the Golden GLORIA, previous winners include multiple winner Tony Abbott, religious leader Margaret Court, columnist Miranda Devine, and former Managing Director of the Australian Christian Lobby Jim Wallace.
The awards will be announced on 25th September. Head to the GLORIA website to submit your nomination. 
The Golden GLORIA through the years
2018
Former tennis player Margaret Court, for saying homosexuality was an ungodly "lust for the flesh" and that "LGBT tendencies in young people" were "all the devil". She then said: "That's what Hitler did. That's what communism did – get in the minds of the children… They're after our young ones, that's what they're after."
2017
Ramzan Kadyrov, head of the Chechen Government for deciding that gay men should be rounded up, arrested and herded into concentration camps and eliminated.
2016
Former Prime Minister Malcolm Turnbull for effectively saying nothing to help defend the LGBTI community from attacks on Safe Schools, and for refusing to overturn the unnecessary, inappropriate, wasteful & divisive plebiscite on marriage equality.
2015
Germaine Greer for comments she made about Caitlyn Jenner at a Cambridge University Student's Union (CUSU): "Just because you lop off your d**k and then wear a dress doesn't make you a f***ing woman," she said.
2014
Former Prime Minister Tony Abbott (again) for his year of comments against marriage equality.
2013
NSW roads minister Duncan Gay (personally accepted the award) for his insistence on tearing up the rainbow pride pedestrian crossing over Taylor Square.
2012
Miranda Devine for her attack on marriage equality and same-sex parenting, linking "a fatherless society" to the 2011 London riots.
2011
Australian Christian Lobby chief Jim Wallace for his Anzac Day tweet, "Just hope that as we remember Servicemen and women today we remember the Australia they fought for — wasn't gay marriage and Islamic!"
2010
Former Prime Minister Tony Abbott for his admission on TV's 60 Minutes that homosexuality makes him feel threatened.
OIP Staff
---