The Colourul Life of Dame Cindy Pastel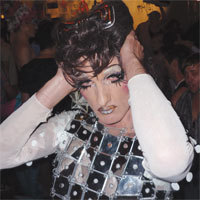 I love her laconic, no bullshit approach to things and her Zen/naive/savant approach to life. Visually she is a wonder and brings much colour and glitter (especially magma orange and hot pink) to a very beige 'new' world order. As a showgirl I ache for her incredible passionate and funny performances, the mad face and the inimitable way of moving (part Charlie Chaplin, part Lucille Ball). Her short, sharp wit on the microphone also puts most drag to shame!

Vanessa Wagner on Cindy Pastel
Dame Cindy Pastel is the original foulmouthed drag queen. She debuted back in 1979 at Sydney's Patches talent show where she played both a man and a woman as she performed Sonny & Cher's A Love Like Yours (Don't Come Knocking Everyday). Since then Dame Pastel (aka Richie Finger) has become one of the most iconic drag queens in Australia. After all, without Pastel there would have been no Priscilla, Queen of the Desert, as the film used Pastel's life story of to catapult Hugo Weaving to international fame as a funny faced showgirl on a trans-Australian adventure.
But be careful if you make mention of Priscilla to Pastel. She's not to happy with the fact that her life is being used to make others rich… and famous. Not happy at all, Jan.
'Every night of the week my life is being performed onstage,' Pastel said on the line from Sydney, after having recently appeared at Connections Nightclub for Pride WA. 'And now I'm on a pension living in the middle of outback Sydney with hardly a couple of sheckles to rub together. But I'm doing ok. I'm fine. I've struggled all my life, I come from a battling family and I know how to get by. And I won't be forgotten. I'll never be forgotten.
'Am I angry? No, not angry. I'm disappointed. But just as AIDS made us stronger as performers, this has made me stronger as a human being, as Richie Finger.'
Cindy started out as Facile Façade. It was a name she had pulled from a dictionary. She entered the talent comp at Patches and didn't win. She didn't come second either. Nor did she lose. But what did happen is that the hostess, Trixie, asked her to come back and then offered her full time work. But on one condition: that she changed her name. It turns out Facile Façade is really hard to say when half cut on the microphone… who'd have thought?
So Facile became Barbie Mattel. Or Barbara. But she felt Barbara made her sound old, so she adopted the name Cindy as in Barbie's younger sister. And Mattel became Pastel.
'I changed my last name at the same time to Pastel because at that stage in the really early '80s pastels were everywhere and I loved it so much. It was like being on an acid trip constantly because everything was airbrushed and beautiful and heaven, so I aspired to be part of that tripped out look.'
When the '90s hit, so did the full impact of AIDS. The face of social Sydney changed dramatically. People started dying in dramatic numbers. But for Pastel, the show had to go on.
'AIDS totally rearranged everyone. It just seemed like every time we'd lose somebody we got more energy and more determination to be humourous and more colourful. I always put it down to the fact that we (Pat Gently, Miss 3D and Cindy Pastel) were The Andrew Sisters of the war. We were there for a purpose and that purpose was to entertain people…Just being on Facebook for just over a month and people have just been coming out of the woodwork and just thanking me for taking their minds off AIDS.
'A lot of nurses would come after work and drown their sorrows and just love me especially on the microphone and I'd be on the microphone being really quite terse, rotten drunk and got a reputation for being this foulmouthed bitch who was incredibly humourous. That was a bit hard to come to terms with once I gave up drinking. I'm now 10 years sober and I don't get much of an opportunity to hold a microphone these days. I think they're scared of what I might say.'
And with just cause – Priscilla has been a difficult pill for Pastel to swallow, but swallow it she has. Things were only compounded when the documentary which accompanies Priscilla, Ladies Please, revealed the truth about the man behind Pastel: that Finger was actually bisexual and had a son, Adam, who's now 25 and works in a shoe shop. But still, Pastel applauds Hugo Weaving's rendition of herself.
'I think it was a confusing role for Hugo to play. He studied me a bit. He used to come to Aubrey and watch me and I think he did a wonderful job. And I think the most perfect scene in Priscilla is when he's trying to act butch and he spits and he's trying to tell his son he's bisexual.
'I was in Cannes watching it with my son,' Pastel explained further. 'We were holding hands and that scene came up and I realised that I hadn't even told Adam and he just grabbed my hand, squeezed it tight and just held it. I'll take that to my grave. It was like words didn't need to be said. So they can call me what they want…as long as I've got my child's love.'
Scott-Patrick Mitchell