The Court boasts colourful new mural created by artist Jackson Harvey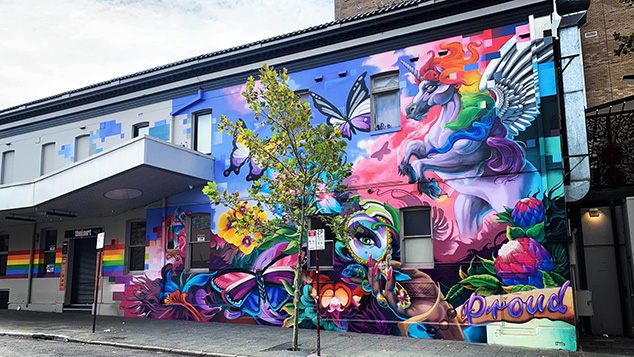 The Court Hotel has installed a colourful mural to represent the diversity of Perth's LGBTQIA+ community. The new artwork was created by Jackson Harvey, who is a multi-disciplinary artist based in Fremantle.
Jackson Harvey's work is world renowned, with pieces sprawling throughout United Kingdom, Europe, the Americas and parts of South East Asia. OUTinPerth found out more about how the new mural was developed.
How long did it take to plan and paint the new mural? What was the process?

The mural took about four weeks to paint. It's one of the largest projects I've undertaken, in terms of size, complexity and colour.
I began painting at street level, gradually increasing from working on the ground, to step ladders, then taller ladders, to a scissor lift and finally getting up on a 12m boom lift to do the top half of the building. I tackled it section by section, gradually building up to the top.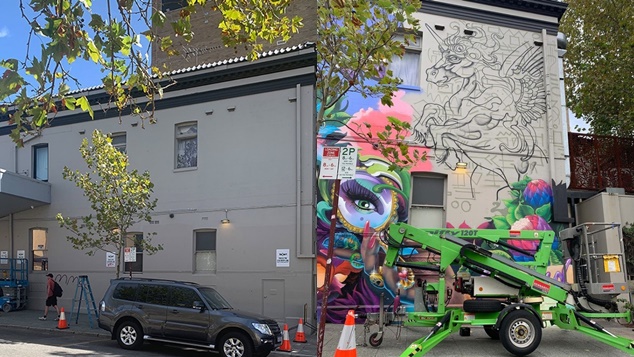 What's amongst the art work, how did you choose all the different elements.
There's a lot going on in this one! Everything in the mural represents a different community. Part of the brief was to create a mural which gave visual representation to as many different groups as we could accommodate.
The venue organised a community consultation session with representatives from a few different groups, and during a round-table discussion we explored how different communities self-identify visually.
The common sentiment shared between everyone came back to colours, and particularly the unique flag colour schemes associated with each community. In the mural, you can see the colour schemes from flags expressed in the subjects.
The unicorn was chosen as a focal point, as an icon to represent the entire LGBTQIA+ community and bring a strong, colourful presence to the street.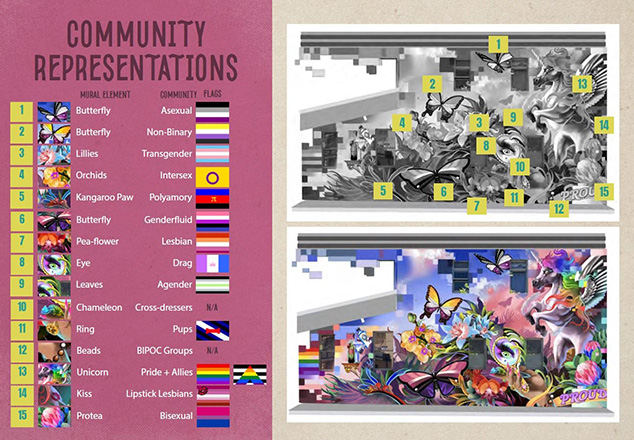 Do you have a favourite element in the work?
The unicorn is absolutely my favourite part! It was so much fun working the rainbow colours into the mane, and I'm really stoked with how it turned out. I feel that it's a really strong statement piece and the response to it so far has been super supportive. Fingers crossed that I'll get a few more commissions to paint giant unicorns!
Where else can we see your work?
You can find me online at my website, and on [email protected], or if you keep an eye out, you can spot a few of my murals around town.
Graeme Watson
---

You can support our work by subscribing to our Patreon
or contributing to our GoFundMe campaign.