The Evolution of Abbe May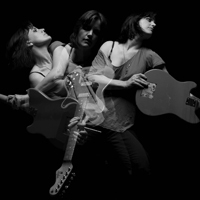 Everything evolves: life, fashion, culture, art… and, of course, music.
Perth's Abbe May is no exception. After two critically lauded albums, two EPs and a slew of accolades (she's taken out the Best Female Vocalist WAMi for the past three years) May is readying herself for the next stage in her musical evolution.
Best known for her blues-rock sound, the new single Mammalian Locomotion signifies a new direction for Abbe May. It features an infectious melody, seething vocals and huge, dirty guitar riffs – it's not surprising that the track has been shortlisted for selection in Triple J's Hottest 100 of 2010 and has gained radio airplay in the US.
Lyrically, the track explores the primal needs of the human species. 'Essentially what we are, when you boil it down, is mammals – highly evolved mammals,' said May, who cited a biology textbook as the inspiration for the song. 'I thought: we need air and shelter and water and I wanted to include sex or romance in that list of needs… I wanted to kind of consider whether or not romance is a valid addition to that list.'
In 2011, Mammalian Locomotion will be followed by a second single, due February, and May's third full-length record, slated for a May 1st release. She describes the new album as 'very different' from her previous work – being more progressive-rock than blues-based.
'It just evolved, I try not to deliberately do things', May said of the new sound, 'I'm a year or two older than I was when I made the last [album] so it's influenced by different books and different music and different movies… and different people have collaborated on it. It's got a more modern angle to it.'
Like her music, Abby May comes across as confident, thoughtful and unpretentious. When you speak to her you get the refreshing sense that you're conversing with a real person, not a media-trained robot. Perhaps it's the result of growing up Bunbury with liberal-minded parents?
'My parents were teenagers in the '60s… They were fairly unusual people I guess, it was sort of late '80s/'90s parenting.'
It was her parents that first ignited her passion for old-school rock n' roll and blues, she explained. 'Music played a huge part in everyday life when we were children… we're talking music from sort of 6am until late in the evening.
All day was just constant Rolling Stones, Beatles, [Captain] Beefheart, The Pogues and Billie Holiday.
There was a lot of Irish stuff too because my mum's Irish.'
Although neither of her parents were musicians, they bought May and her brother guitars, and in the spirit of friendly rivalry the pair learnt to play.
Abby May describes herself as having been an androgynous child who experienced an unusual form of bullying at school – not from other students, but from a teacher.
'It was very difficult to tell if I was a boy or a girl, my parents never imposed any gender specific clothing on any of us… growing up in a Catholic school a lot of people didn't know how to take it and I had one teacher in particular, who I had for a year, who spent the year trying to convince me that the way I was, was wrong.'
The teacher in question would humiliate her by making her stand in the boys' line and use a male toilet pass. 'I think what it did is make me appreciate what it was to be abject, the outsider,' said May, 'I think a lot of the great artists come from a position of being abject or understanding what it is to be abject.
I certainly hear that in Patti Smith's Rock N Roll Nigger: a white woman singing about being an artist, being a poor person, being on the outside of society.'
May has come a long way since her school days: from front-woman of rock band The Fuzz at the age of 19, to formidable Perth blues-rock chanteuse. And like all great artists, the next phase of Abbe May promises to be something well worth waiting for.
The single Mammalian Locomotion is available for digital download from iTunes. It will be followed by a second single in February and Abbe May's new record on May 1st.
Andrew Searle
***