The Manhattan Transfer return with new tunes and a new member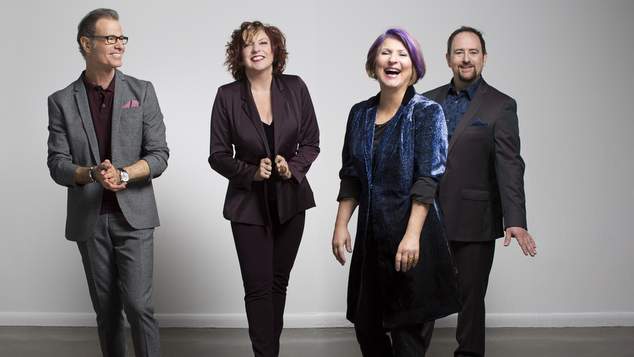 Singer Janis Siegel from The Manhattan Transfer chats to us about the groups longevity and their latest work.
This year The Manhattan Transfer will have been in the music business for five decades, the jazz vocal group first formed in 1969. The first incarnation of the group only lasted a few years, and in 1972 a second lineup was formed.
Tim Hauser was the only member to be in both line-ups, he was joined by Siegel, Alan Paul and Laurel Massé. Hauser connected with the two female singers while working as a cab driver in New York city. Soon they met Paul who was appearing in the broadway musical Grease. 
In 1979 Massé departed following a serious car accident, her replacement was Cheryl Bentyne. The line-up of Hauser, Siegel, Bentyne and Paul travelled the world for decades.
Sadly in 2014 founding member Hauser passed away. Janis Siegel says recording new material was emotional and at one point the band member's weren't sure if the group would continue.
The group have forged on and in 2018 released a new album featuring new singer Trist Curless. Curless had been singing with the band for many years as a stand in member, and didn't hesitate to become an official member when asked to join the long running band.
Many of the group's biggest hits are songs you can't help but sing-along to, I mention to Siegel that all week I've been humming the group's biggest hits Boy From New York City and Birdland. 
"They are complete earworms."
"What the heck is is it that makes them like that! There are very singable, it's what we used to call 'hooky', but they're very singable." Siegel said launching into the opening line of Birdland's chorus.
Having performed the songs millions of times Siegel says she has a simple trick for keeping the performances fresh, even after decades of singing the songs.
"You have to remember every time that it's a brand new audience, and you have to be present in the moment, it's the thing that Buddhists talks about, but you have to remember that somebody may be hearing those songs for the first time, but I seriously never get tired of singing those songs."
Decades of touring have allowed the band to build up a loyal audience of fans, and nowadays the people attending the shows are multi-generational.
"People are now bringing their grandchildren to see us." Siegel said.
The band keep things fresh for each show and every show is a little bit different.
"We always make up the set list a few hours before the show, but I can tell you that there will be a lot of tunes from the newest record."
"It's our first record with our new member Trist Curless." Siegel said, saying the recording of new album had been a different experience. The Junction saw the band working with acclaimed producer Mervyn Warren and sees them singing songs from a diverse range of artists including US3, Rickie Lee Jones and British indie rock band XTC alongside new original material.
"Our biggest challenge in making a record is that we don't all live in the same city. I'm here in New York, Cheryl's in Boston and the boys are in Los Angeles." Siegel said.
The intensive recording process for the album meant that the vocalists were often learning pieces just hours before they recorded their parts. "That was a big challenges, but it was really stimulating." Janis Siegel shared.
The Manhattan Transfer are playing The Regal Theatre on Saturday 2nd March, tickets are available from Ticketek.  
Graeme Watson, images: John Abbott
---