Things That Happened at the Tony Awards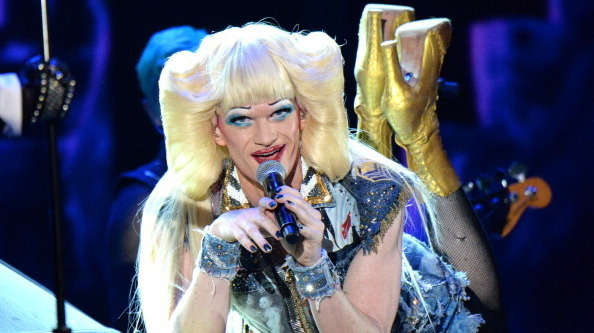 The 68th Annual Tony Awards took place on June 8th, in a three hour spectacular honouring Broadway's best and brightest.
Hugh Jackman hosted the event yet again, proudly representing Australia by doing his best marsupial impression and making jokes about the metric system. In an opening sequence that confused many, the star bounced around backstage and eventually made his way to the auditorium, jumping up and down for approximately four minutes to introduce the various acts to the audience and show off his cardio skills, I guess.
Audra McDonald won best actress, bringing her total Tony tally to six and making her the first woman to win a Tony in all six acting categories. She was honoured for her role as Billie Holiday in 'Lady Day at Emerson's Bar & Grill'. She said this during her tearful acceptance speech:

"I want to thank all the shoulders of the strong and brave and courageous women that I am standing on," she said. "And most of all Billie Holiday. You deserve so much more than you were given when you were on this earth."
Neil Patrick Harris, who's hosted the Tonys a number of times, stole the show with this number from 'Hedwig and the Angry Inch':
My favourite part was Samuel L. Jackson's face after Neil Patrick Harris licked his glasses and gave them back to him. Also, that's Harris' husband David Burtka that he pashes towards the end of the number, thus securing their reign as most sickeningly perfect couple on the world stage.
Another noteworthy performance was Alan Cumming's return to his Tony-winning role as MC of the Kit Kat Club in 'Cabaret;.
Cumming reminds everyone why he won a Tony and while he's at it proves that he can still pull off that outfit 15 years after the first run of the Sam Mendes production.
Without further ado, here are the winners of the night:
Best musical: 'A Gentleman's Guide to Love & Murder'
Best performance by an actress in a leading role in a musical: Jessie Mueller, 'Beautiful – The Carole King Musical'
Best revival of a musical: 'Hedwig and the Angry Inch'
Best performance by an actor in a leading role in a musical: Neil Patrick Harris, 'Hedwig and the Angry Inch'
Best play: 'All the Way'
Best revival of a play: 'A Raisin in the Sun'
Best performance by an actor in a leading role in a play: Bryan Cranston, 'All the Way'
Best performance by an actress in a leading role in a play: Audra McDonald, 'Lady Day at Emerson's Bar & Grill'
Best performance by an actress in a featured role in a play: Sophie Okonedo, 'A Raisin in the Sun'
Best performance by an actor in a featured role in a musical: James Monroe Iglehart, 'Aladdin'
Best direction of a play: Kenny Leon, 'A Raisin in the Sun'
Best direction of a musical: Darko Tresnjak, 'A Gentleman's Guide to Love & Murder'
Best performance by an actress in a featured role in a musical: Lena Hall, 'Hedwig and the Angry Inch'
Best performance by an actor in a featured role in a play: Mark Rylance, 'Twelfth Night'
Best book of a musical: Robert L. Freedman, 'A Gentleman's Guide to Love & Murder'
Best original score (music and/or lyrics) written for the theater: 'The Bridges of Madison County' (music and lyrics by Jason Robert Brown)
Best scenic design of a play: Beowulf Boritt, 'Act One'
Best scenic design of a musical: Christopher Barreca, 'Rocky'
Best lighting design of a play: Natasha Katz, 'The Glass Menagerie'
Best lighting design of a musical: Kevin Adams, 'Hedwig and the Angry Inch'
Best choreography: Warren Carlyle, 'After Midnight'
Best costume design of a play: Jenny Tiramani, 'Twelfth Night'
Best costume design of a musical: Linda Cho, 'A Gentleman's Guide to Love & Murder'
Best sound design of a play: Steve Canyon Kennedy, 'Lady Day at Emerson's Bar & Grill'
Best sound design of a musical: Brian Ronan, 'Beautiful – The Carole King Musical'
Best orchestrations: Jason Robert Brown, 'The Bridges of Madison County'
Sophie Joske
Image Credit: Kevin Mazur for Getty Images