Tim Clifford confident The Greens are making an impact
As the votes are counting on Saturday night one of the most closely watched seats in Western Australia will be the inner city seat of Perth.
With Labor's Alannah MacTiernan stepping down after just one term in the federal parliament, high profile lawyer Tim Hammond is Labor's candidate, business identity Jeremy Quinn is the Liberal's man and public servant Tim Clifford is standing for The Greens.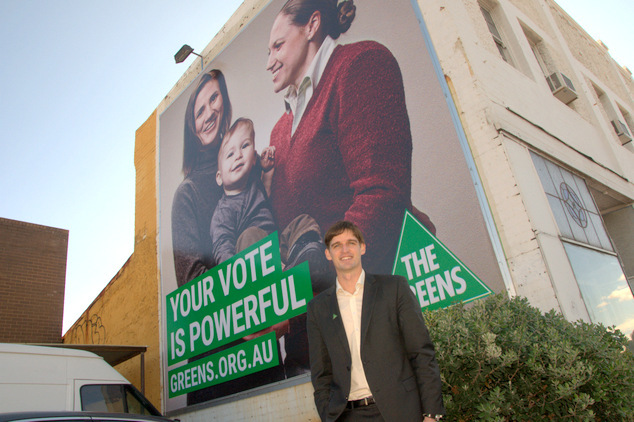 Clifford told OUTinPerth that his motivation for launching a political career was because he wanted to see real changes made and a desire to serve the community.
"It was the way that things are going, the contrived nature of politics where it's all about winning and not getting things done, not serving the community." Clifford said of his motivations.
One of the issues at the top of Clifford's agenda is housing affordability.
"I grew up in a single parent household with three sisters and we lived in state housing." Clifford said, "To think that today the waiting period is 12 years. Programs haven't been designed to break cycles of poverty and that drives the inequality gap."
"A lot of the laws that are passed today end up serving just a certain few in society and their not benefiting the people who deserve to be helped."
Clifford said the last seven weeks on the campaign trail had taught him a lot.
"I've learned that obviously its a lot of hard work, but it's just about being honest. That's the main thing, you just have to be yourself. I don't have any three word slogans, we've just got a narrative."
While the overall election campaign has been described as boring, The Greens have provided some of the most engaging moments during the journey, from pop-up offices, to DJing politicians, pub Q&A's, and theatre groups acting out key policy themes.
Clifford said the vibrancy of The Greens campaign could be attributed to the massive number of volunteers who have pledged their support to the campaign. The candidate said the grass roots engagement was paying off because other parties are ignoring what people really want and become disconnected from the electorate.
"A lot of them [volunteers] feel like they're not being heard. When you look at things like climate change, it's just so obvious that we need a shift to a renewable economy and there are opportunities there. People can see there are vested interests that are preventing it from happening."
"It's the same thing with things like marriage equality. Politicians have forgotten that these things are relevant to the community and people actually believe in them. It's not just about the factional teams that operate within a political realm trying to wins seats. It's the people's parliament and those seats are there to represent the people."

Posing for a photo in front of the party's massive billboard showing a same sex couple Clifford said The Greens were the party that had a long history of being at the forefront of supporting LGBTIQ+ rights.
Clifford said he wasn't surprised that the major parties didn't directly show visual representations of gay couples in their campaign materials.
"There's a section of society that feels we should live in the past. It's not like there weren't same sex couples in the past, its just that they weren't seen or heard.
"Today a lot of walls have been broken down. I door knocked a same sex couple and they shared how they couldn't understand why in this century we're still debating this issue [marriage equality]." Clifford said.
Clifford said it was important that positive images of LGBT people were included in the campaign saying he hoped a young couple would go past and feel empowered by the image. Clifford said he thought the standard images of politicians appearing with their wives and children were changing.
"It's important that we have that narrative, society isn't just black or white, it's not as clear cut as some people would like it to be. Our so communities are diverse, and it brings the best out of people knowing that they're accepted."
The Greens have managed to win lower house seats in inner city Melbourne and Clifford believes people in the Perth electorate and engaging with The Greens message.
"I've been out there every weekend and I've been overwhelmed by the support we've been getting in the Perth campaign. I think as we reach out to people on their doorsteps and through community forums we are making a change, we're shifting the vote and we're going to get there eventually." Clifford said.
Graeme Watson