Trash Valentine talks about the world of boylesque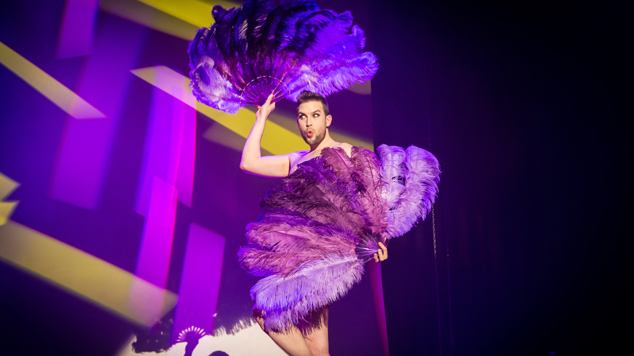 Burlesque has had an explosion of popularity in recent years and Fringe World 2016 has many different kinds of performances showcasing the art form, but step aside girls, Boylesque is also gaining popularity.
Twisted Vaudeville Circus present their show The Birdcage: Boylesque edition throughout this year's Fringe Festival. The show features some of the biggest names on the international scene alongside acclaimed local talents.
Local boylesque star Trash Valentine started performing just a year ago but has quickly embraced the fun theatricality of burlesque.
Valentine is the alter-ego of local guy Blake Edward, who has spent many years looking on to the stage supporting his long term partner Ryan, who until her recent retirement, was well known Perth drag star Fab Panache.
Trash Valentine said stepping into the spotlight was something that happened quite unexpectedly.
"I was a bit of an impulse, I'd see burlesque through Ryan/Panache working with Twisted Vaudeville Circus. It wasn't until he pulled me up onstage for one of the audience participation games that I got involved." Trash Valentine said.
'I was blind drunk…they play this came called 'interpretive dance' where they play a song and you have to dance to the music. My first instinct was to push all the other contestants off stage and then start twerking like Miley Cyrus." Trash Valentine revealed.
The producers of the show were so impressed with his performance they asked him to consider joining the show, and hence the character of Trash Valentine was born.
"I liked the name Valentine because I thought it was romantic and cute, then I was looking online and saw a show in the US that was described as 'all trash' and I thought 'that's brilliant!' I'd love to be described as 'all trash'.
Trash Valentine told us that what he loves most about performing is having over the top costumes and then doing something in the performance that nobody else would considering doing while wearing the outfit.
"Normally when someone does something like a fan dance it's very sexy and sultry, but my approach is to be very cheeky, it's very tongue in cheek, it's such a parody of what's normally done." Trash Valentine said.
Trash Valentine said the embryonic boylesque scene is challenging many notions of gender.
"Women are seen as sex symbols, they are seen as very sexual, and that women are there for men, but for a man to be sexual, for a man to be anything other than masculine, that's not really seen anywhere else."
Also appearing in the show is Australia's Mr Boylesque 2015 Charlie D. Barkle who will be bringing his triple threat talents to the stage alongside 2012's King of Boylesque Russell Bruner (who features on the cover of this month's issue) and faux-boy Lou Henry Hoover.
Catch The Birdcage: Boylesque Edition' at The Empyrean Function Centre / Metcalfe Playhouse as part of Fringe World on February 5,6,12,13,19,20 and 21. Get tickets at www.fringeworld.com.au
Graeme Watson
Image: John Leonard