Trent Zimmerman says Victorian Liberal proposals are from the 19th century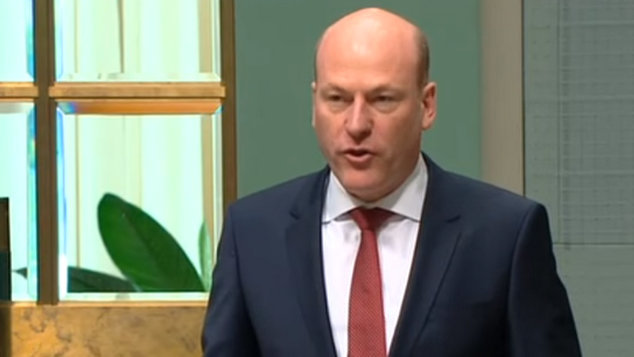 Federal Liberal MP Trent Zimmerman says proposals put forward within the Victorian branch of the Liberal party, that call for medical practitioners to promote counselling that encourages people to resist being gay or gender transitioning, are out of touch with the modern world.
"These are the types of policies you would expect to find in the dark recesses of the 19th century or in the forums of the Australian Conservatives party – not in the modern Liberal Party," Zimmerman told Fairfax Media on Sunday.
Over the weekend The Age revealed that a proposal had been put forward for discussion at the Victorian Liberal party's upcoming state council meeting.
The motion calls for health practitioners to be allowed "to offer counselling out of same sex attraction or gender transitioning to patients who request it". The group also want laws which would ensure "parents and young people are all given full information about the psychological harms of social, medical and surgical gender transitioning".
The motion from the Liberal party's  Menzies-Warrandyte branch will be debated at the party's meeting on April 28 and 29.
Currently Victoria in the only jurisdiction in Australia that forbids gay conversion therapies being offered to people under the age of 18. Programs that claim sexuality can be altered via counselling sessions have been widely debunked by medical experts.
Another motion from a different branch of the party has called for the Commonwealth Sexual Discrimination Act to be rewritten to include the phrases "man" and "woman" in the place of "sexual orientation" and "gender identity".
There is also a proposal to remove the Safe School anti-bullying program from all Victoria schools, and instead make it impossible for teachers to suggest that person's gender may be different from their biological sex or that people can transition.
Zimmerman, whose seat is in New South Wales, is one of the few Liberal MPs who has spoken up about the proposed policy proposals with many Victorian MPs reportedly reluctant to speak out publicly about these proposals.
Recently Victorian Liberal leader Matthew Guy defended anti-gay comments he'd made in his student days. Guy said a letter he signed in his twenties which described gay people as the "sign of a very sick society suffering from severe moral decay." did not reflect his current views of LGBTIQ people.
OIP Staff
---