Review | TRIAGE! A Nursing Cabaret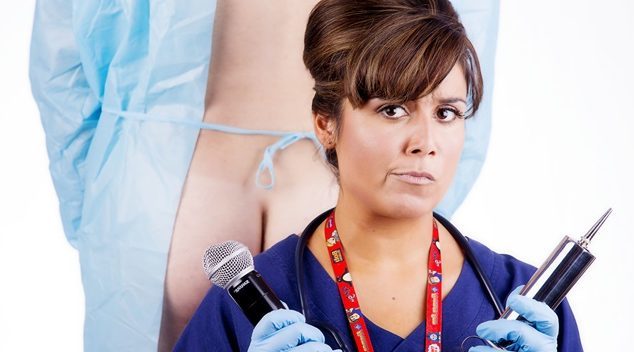 TRIAGE! A Nursing Cabaret | Noodle Palace | Until Feb 19 | ★ ★ ★ ★
I could feel beads of sweat on my back as I was walking into the tent to see the show. Don't get me wrong, it wasn't from the anticipation on the excitement (or fear) that was about to unfold (I neglected to read the show brief beforehand) – but it was from the sweltering heat and the poor ventilation in the tent. I hate the heat. This did not bode well from the outset, however after a series of entertaining performances and jokes referencing the likes of Aretha Franklin and Les Mis, I was hooked. To be frank, the lack of a more robust and effective air-con system was the only fault I could find during my experience at TRIAGE! A Nursing Cabaret.
TRIAGE! A Nursing Cabaret (starring Zuleika Khan) is a creative interpretation of what it is like to work in a triage ward – mixing elements of comedy, soul music and speculums along the way. Preamble aside, this cabaret was pretty damn good, and here are the reasons why you should watch the show;
Robust music score: There's a bunch of soul/jazz music (both originals and covers) from the likes of Aretha Franklin, Doris Day, Peggy Lee to get you grooving to the music.
Tailored jokes to Perth: Jokes about Rockingham, Kwinana and Osborne Park are always great.
She can sing: This requires no explanation – why she hasn't tried out on the Voice or anything like that baffles me. Oh yeah, I forgot to mention – she's a magician on the piano too.
The star has a cool name: Her name is Zule – its like Julie but with a 'Z'. That's pretty cool right?
Medical device education: You will be get educated on why a certain medical device exists and listen to an hilarious song which compares it to a living species.
The show contains comedy with a pinch of tragedy: The show strikes an excellent balance of emotions as it has a bunch of punchlines which will get you laughing, but also takes you through some moments which pinches a couple of the sad nerves. Some old guy in front of me even let out the waterworks at some point – but I wasn't sure if it was because of sadness or just that he was old and had elderly eye problems.
TRIAGE! A Nursing Cabaret will be at Noodle Palace until Sunday Feb 19th. Tickets and more information available from fringeworld.com.au
Shing Chak Sheung