Trish Langdon – The Future of HIV Prevention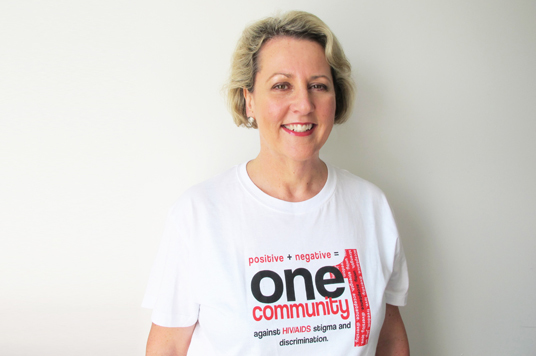 Last month Trish Langdon stepped down as Executive Officer of the WA AIDS Council (WAAC). During her 12 years at the helm WAAC has diversified its range of services and undergone a major restructure. Today the WA AIDS Council works across a wide range of projects that include supporting LGBT youth, suicide prevention strategies, education projects and  meeting the evolving needs of people living with HIV.
 Prior to becoming the organisation's longest serving leader Langdon had contributed for many years as a volunteer. During her final days in the WAAC office Langdon sat down with OUTinPerth editor Graeme Watson for a wide ranging interview.
As I sit down to chat with Trish Langdon about her time as head of the WA AIDS Council she's in the middle of writing the organisation's annual report. In the days leading up to our interview I'd read several of the previous years reports and commented to Langdon that a few years ago she utilised an interesting quote from writer Richard Florida.
Langdon comments that the work of the American urban theorist is one that she often returns to, revealing that the day before she'd been speaking at a suicide prevention conference, talking to employers about things they can do to be more supportive to LGBT employees. Langdon notes that one of Florida's key findings is the relationships between business, technology and tolerance – societies that have a high diversity index do better.

At first glance, you might wonder what the relationship between improving diversity, reducing LGBT suicide and HIV prevention is, but Langdon sees things from a big picture perspective and argues that essentially they are the same thing,
'The thing about suicide prevention is, suicide – a bit like HIV, is like a performance indicator of how society is operating', she explains, 'Not so much in Australia – but in developing countries, if you've got laws that protect women, and laws that protect gay men, and you've got laws that sort of don't over criminalise drug users and so on – you're going to have lower HIV rates.
'If you've got a diverse and tolerant culture and you've got high levels of connectiveness and belongingness – you're not going to have high suicide rates, and in fact you're probably not going to have such high HIV rates in communities where there is a sense of belonging, connectiveness and meaning… I think they're indicators. You don't do anything for suicide prevention that you wouldn't do for HIV.'
Langdon's journey with HIV and AIDS has been a long one, she remembers first reading medical articles in the very early 1980s when she was in her 20's and can recall conversations about HIV during her pracs when she trained as a social worker, but her first professional development on HIV came during her time working with disabled people in the mid '80s.
'I can remember having a professional development at the authority about HIV, we all turned up, but very little was known about it back then. The medical officer had gathered everything he possibly could.'
We discuss how the health campaigns for HIV awareness have changed dramatically over the years, from general awareness campaigns like the infamous Grim Reaper to provocative targets campaigns aimed at gay men. Langdon highlights that these early campaigns were effective because they were direct.
'Ordinary health campaigns use weird language in lots of ways and you don't get down to tin tacks – I remember in the early days campaigns about "not sharing body fluids" – well what on earth does that mean?
Plain language is one reason that Langdon acknowledges for the campaigns of the past effectiveness but notes that the fact that people were dying from AIDS related illnesses gave license for more dramatic approaches,
'You've got to understand that in context, some of those ones were really groundbreaking, we were allowed to do much more explicit things back then.
'General society gave us a greater license just to be a bit different, now there is so much more censorship. We can't even get ads into travel magazines with condoms. Condoms by themselves or even a condom packet are problematic for some publishers.'
Langdon highlights that the challenges for HIV today are remarkably different than they were when she began her role.
'The challenge that we've got now, and particularly in WA it that we've got a lot more diverse epidemic, though most of the diverse ones are not necessarily acquiring the infection institute in WA they're acquiring it overseas or they are coming into the country with it – and we've got absolutely no control over that, that is a difficulty for us.'
Acknowledging that there has been some public criticism that the WA AIDS Council does not run enough public awareness campaigns Langdon highlights that simple advertising is not the total solution to reducing the number of people being diagnosed with HIV, and encouraging people to change their behaviours is something that takes considerable time. Langdon points out effective campaigns are just the
start of a journey.
'That's really frustrating because health promotion is not just about that. You do it to be simple and you do need people to understand it, but what you really want to do is to invite people to find out more and to start conversations – that's really what you want to do. Not have all the answers wrapped up in an ad – because if it was that easy.'
Langdon compares the methodology used by anti-smoking health campaigns to the approach used in HIV campaigns.
'I mean if someone has given up smoking just because of one ad – "fan-f**king-tastic" I'd say, but the reality is, using that example, they might watch the ad, they might go to the doctor, they'll have friends, they'll go to a pub where there is some laws against smoking at the pub, and then the prices go up – all of those things together might make someone think, 'I might give up smoking' – well it's the same.'
In recent years the WA AIDS Council's major project to get men talking about HIV and sexual health has been the successful M-Clinic, a dedicated health service for men. Langdon notes that while in the past conversations about safe sex might have previously been triggered by posters and TV adverts, in many cases today the clinic is providing the initial spark.
Langdon agrees that we are starting to see a younger generation who are less prepared for combating HIV.
'Some of them are very well informed, but they don't realise that they are in risk situations, they don't necessarily believe that they are taking risks because they are in monogamous relationships… but they are in risk situations because they're not communicating, or don't have the capacity to communicate with a partner who is f**king around.'
Creating programs that target a generation who have grown up with immediate satisfaction through the internet, SMS and Grindr is something Langdon admits is going to be challenging. She highlights that connections between younger and older people are important,
'They want feedback now, it's definitely a generational thing, absolutely no waiting for anything, and they get cross if it doesn't happen now and it doesn't happen in the way they want it.
'But if they're interacting with older people, like the over '30s, they'd probably get a bit of that behaviour norms sorted a bit, but if they're and they're just mixing among themselves then that would be exacerbated'
'I don't think it matters what community you're in, it's called the generation gap and its always existed, and its when you get older you look back and think – "Is that what we were like when we were younger?" But I think there is a thing now about not respecting or being interested in where we've come from.
'Yet, I believe, it is important to understand how communities and groups evolve, and know who key people are… the holders of stories and narratives are important and if we don't capture it – there comes a time. So I think you get to a certain age and you think, "Oh old people do have something to offer."
Last month Langdon was awarded life membership of the organisation. Announcing the honour, WA AIDS Council Chair Samantha Dowling commented that Langdon would be remembered for her passion, innovation, humour and leadership. Andrew Burry former General Manager of the AIDS Action Council of the ACT has been appointed as Langdon's successor.
Declaration: Many years ago Graeme Watson was a volunteer at the WA AIDS Council and Samantha Dowling is a former Editor of OUTinPerth.