Two Indonesian men flogged in public for gay sex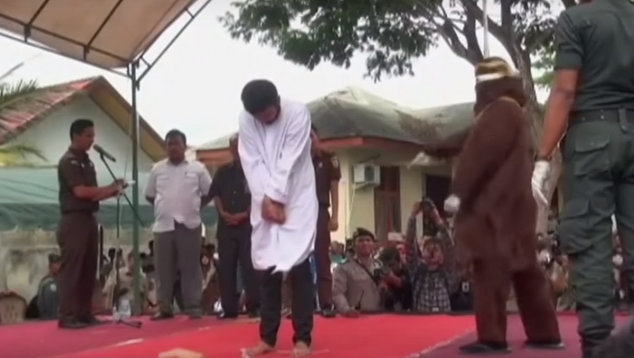 Two men, aged 20 and 23, were publicly caned in front of a mosque in Badeh, Aceh, Indonesia yesterday.
The two men were arrested after vigilantes broke into their residence, and claimed the pair were having gay sex.
Both men pleaded guilty in court and were sentenced to receive 85 lashes of the rattan. Prosecutors had argued that a sentence of 80 lashes was appropriate, the maximum sentence under the regions laws is 100 lashes, 100 months in prison or payment of 1000 grams of gold.
Yesterday both men were caned 83 times, two strokes were removed from the sentence because each as spent two months in prison since they were arrested.
An estimated crowd  of 2000 people gathered in Aceh's capital to watch the punishment being delivered. Men and women were separated into different sections to view the caning, many recorded it on smart phones.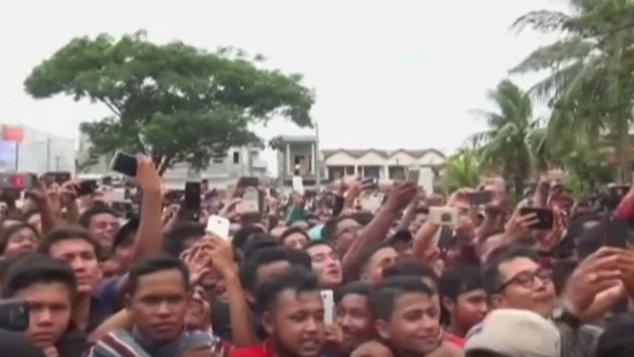 Three hooded men took turns at delivering the strokes, the crowd becoming agitated when they posed momentarily to ask one of the men if he was strong enough to continue.
One of the men who is 20 years old, was given a glass of water after the 40th lash, while a doctor checked his physical condition after the 60th lash.
The region of Aceh was given permission to introduce Sharia law in 2014 following a period of civil war.
Homosexuality is not illegal in Indonesia, except in Aceh which operates it's own Sharia Law. There has however been a push for homosexuality to be criminalised which is currently before the nation's court.
Recently gay men in Indonesia have been arrested for attending 'gay parties' and charged under the nation's anti-pornography laws. On the weekend 141 men were arrested in Java. Previously a group of 14 men were arrested in Sulawesi.
Australia's Foreign Minister Julie Bishop has raised the issue of discrimination against LGBT people with Indonesia's government.
"Earlier this month, the Australian government recommended that Indonesia reject discrimination on any grounds including sexual orientation and gender identity during Indonesia's UN Human Rights Council Universal Periodic Review," a spokesperson told Fairfax Media.
Labor Senator Penny Wong said the caning of gay men was very disturbing.
"Labor is fundamentally opposed to the oppression of anyone on the grounds of their gender, sexual orientation or their religious beliefs," Senator Wong said.
"We would support a clear and unambiguous statement by the government expressing Australia's firm position on these matters."
OIP Staff