United Nations will keep LGBT expert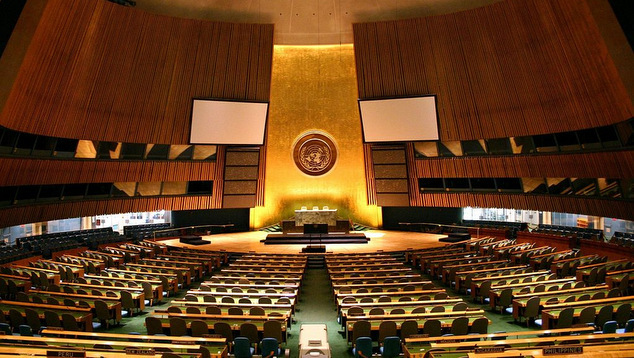 A move to stop the work of the United Nation's special expert on LGBT issues from investigating human rights abuses around the world has been fought off at the UN's General Assembly.
A small group of States attempted to stop the United Nation's first ever Independent Expert on the "protection against violence and discrimination based on sexual orientation and gender identity."
The Independent Expert role was created through United Nations Human Rights Council resolution in June of this year and is held by Vitit Muntarbhorn, a Thai human rights expert.
On Monday UN General Assembly member States voted 84 against a amendment calling for the appointment to be reconsidered.  Seventy seven nations voted in favor,  and 16 abstained.
Jessica Stern, Executive Director of OutRight Action International, commented on the vote saying,
"The UN General Assembly vote makes clear that no one should be subjected to discrimination and violence on any grounds.  We congratulate the many states, national human rights institutions, and civil society organizations that worked to ensure that the universal human rights system would be upheld.  Today was a victory for human rights."
Outrigh Action International said that despite ample jurisprudence defining sexual orientation and gender identity in international human rights law, those who brought the hostile amendment contested the legal principles underpinning the mandate, arguing that sexual orientation and gender identity are not universally recognized as human rights concepts and are not codified in international law.
The move to stop Muntarbhorn from continuing his work was brought forward by a group of African Nations.
Seventy three countries still have laws that make homosexuality illegal, they represent almost 40% of the United Nations membership. Thirty three of the countries that outlaw homosexuality are in Africa.
Ging Cristobal, OutRight's Project Coordinator for Asia based in the Philippines, said the main reason there was opposition to the appointment was because these countries did not want LGBT rights to be recognised.
"Let's be clear about what the opposition is doing. They don't want the SOGI Independent Expert to ever get to work protecting the lives of people who are vulnerable, and many governments around the world saw through this diversionary tactic." Cristobel said.
OIP Staff, image: Patrick Gruban published with a Creative Commons 2.0 licence.