Unpack This – Anger Abounds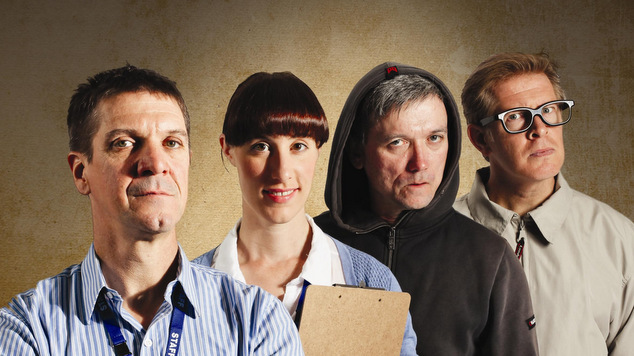 One day, two councillors, and six men with unmanageable tempers. According to actor Ross Daniels, this true life occurrence is a recipe for comedic success.  When writer/performer Geoff Paine uncharacteristically head butted his neighbour, he was ordered to pay some hefty fines, write a written apology, and most importantly – attend a one day anger management course. Paine attended, and sat transcribing the bizarre conversations that took place. Unpack This! was born.
The six men are played by just two actors, Paine explained what to expect – 'Imagine eight chairs lined up, two councillors in the middle. Geoff and I will move between the chairs and change characters.'
The six wildly different characters come from all walks of life; when asked about who was his favourite, Daniels was torn between young suburban bogan Nicholas, and sour senior citizen Reginald.  'Reg is a man in his 70's, his wife just passed away and he's living by himself now in a house out on the suburbs where there is no off-street parking. He gets into to a confrontation with one of his neighbours over a parking spot and threatens him with an axe, so that's why he's there. Nicholas is a younger guy who wears a hood and he's a homophobe. He thinks he's smarter than he is. He's the class clown.' Syd Brisbane and Michelle Nussey play the two councillors, whose own issues 'threaten to derail the proceedings'.
Daniels attributes the authenticity of the script to the only slightly tweaked account– 'he said it was fascinating, he couldn't believe the councillor who was doing all the talking, he said he was quite a comical character. Geoff just sat there and wrote notes and notes and notes'.

When asked what audiences are to expect, Daniels promises this – 'I would say they are going to get a good look at a men's anger workshop, they'll be surprised by the laughs; there's also a dark side, there's drama, there's heart warming moments and a few surprises.'
Unpack This! is on at The Subiaco Arts Centre, starts Tuesday September 11. Grab your tickets from www.bocsticketing.com.au
Nadine Walker