US preacher calls gay people "AIDS dispensers" in horrific slur filled rant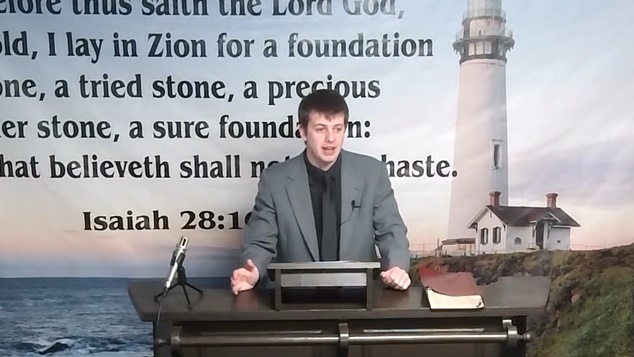 Jason Graber, a pastor at the Sure Foundation Baptist Church in Spokane Washington, has delivered a slur filled homophobic sermon to his parishioners which saw him refer to gay people as 'AIDS dispensers".
Warning: This report contains threats of violence and confronting language.
Likely responding to the US Food and Drug Administration's recent announcement that they would move towards individual risk assessments when determining if people were suitable to donate blood, the preacher delivered a slur filled tirade against queer people.
"They were having a campaign to make it so that f****ts could donate blood, okay? That's a stupid thing to do. You're gonna kill a lot of people by doing that. I mean, we call them AIDS dispensers for a reason. No f****t should be able to donate blood, but then again, no f****t should be able to breathe air." Garber said.
Garber's comments were picked up by The Friendly Atheist who highlights that while churches like Graber's may have a small number of parishioners, their online audiences can be substantial.
The religious leader has a long history of making derogatory and threatening statements about the LGBTIQA+ communities. He has previously called for gay conservative speaker Dave Rubin to executed.
In 2022 during a sermon Graber described the conservative political commentator as a "flaming sodomite" and called for Rubin and his partner to be "immediately executed." because they had children via a surrogate.
Last year Graber also called for teachers who deliver LGBTIQA+ related content to be publicly executed on live television. Graber said mainstream news outlets needed to play live broadcasts of teachers being publicly beheaded to stop America becoming like the biblical cities of "Sodom and Gomorrah".
Garber's church is part of the New Independent Fundamental Baptist movement which has churches in the USA, Canada, Philippines, South Africa and Australia. The group was founded by US religious leader Steve Anderson.
In 2018 New Zealand born pastor Logan Robertson was deported from Australia after he was accused of harassing Muslims at two Brisbane mosques. He had previously called for gay people to be shot.
OIP Staff
---
Do you need some support?
If you are struggling with anxiety or depression, support and counselling are available from:
QLife: 1800 184 527 / qlife.org.au (Webchat 3pm – midnight)
QLife are a counselling and referral service for LGBTQIA+ people.
DISCHARGED: [email protected] / discharged.org.au
Discharged is a trans-led support service with peer support groups for trans and gender diverse folks.
Lifeline: 13 11 14 / lifeline.org.au
Beyondblue: 1300 22 4636 / www.beyondblue.org.au
---

You can support our work by subscribing to our Patreon
or contributing to our GoFundMe campaign.