Venus in Fur: An Intriguing Theatrical Journey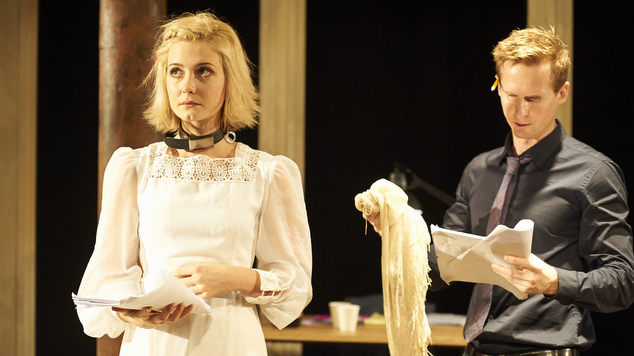 'Venus in Fur' is the first theatrical offering for 2015 from Black Swan State Theatre Company.
It's a provocative story that features some superb acting and stimulates some thought provoking discussions.
David Ives' Tony nominated play made its Broadway debut in 2011 and two years later was taken to the screen by master filmmaker Roman Polanski.
It's a story within a story, Thomas Novachek is an aspiring playwright searching for the perfect actress to play the part of Vanya in his adaptation of Leopold von Sacher-Masoch's 1870 novel 'Venus in Furs'.
At the end of a day of fruitless auditions for a leading lady Novachek is preparing to head home when one last actress rushes in, she's loud and brash, running late and got caught in the rain. Her name is also Vanya, Vanya Jordan.
Captivated by Vanya's forthright sexuality and persistent manner the writer agrees to let her read for the part. She convinces him to read opposite her, taking on the role of the protagonist Severin von Kusiemski, while she plays the object of his affections Vanya von Dunajew.
The story see-saws back and forth as we begin to follow the interactions of a fictional couple in the 19th century and the present day tug of war between the playwright and the captivating actress.
Felicity McKay is simply amazing in this challenging role. Throughout the show's 90 minute journey she plays essentially two characters. Flipping back and forth between the two, one moment she's Vanya the brash American actress, then she's back to being a charming Eastern European socialite. It's an outstanding theatrical debut for the recent WAAPA graduate.
Adam Booth, who appeared in Black Swan's production of 'The Seagull' last year, gives an admirable performance as Novachek. Booth takes us on a journey into where his character slowly reveals his true identity before being forced to face some real truths about himself.
The conclusion of this story was certainly a surprise, it makes good use of theatrical possibilities to take us on an unexpected journey. 'Venus in Fur' is a thought provoking production that explores the work of an author from whose name the word 'masochism' is derived. It's not about the whips and the chains, but the power plays, emotions and expectations between two people.
Director Lawrie Cullen-Tait successfully brings this acclaimed play to the Perth stage and has drawn out two marvelous performances from Booth and McKay.
'Venus In Fur' is at the Studio Underground at the State Theatre Centre until 8 February. Get tickets via the Black Swan website. 'Venus in Fur' is part of Fringe World.   
Graeme Watson