WA Opera's 'Sweeney Todd' is a box office sell-out success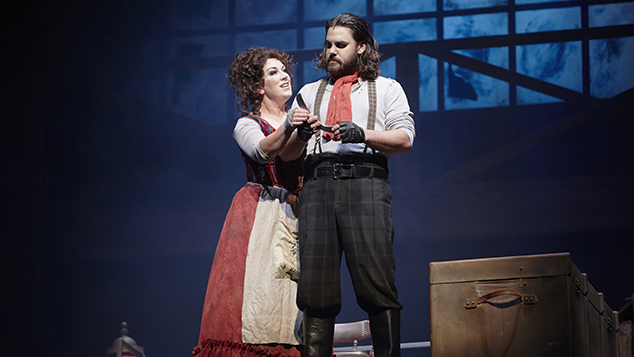 Sweeney Todd | His Majesty's Theatre | Until 20th July SOLD OUT  | ★ ★ ★ ★ ½
WA Opera's staging of Stephen Sondheim's Sweeney Todd: The Demon Barber of Fleet Street has been rewarded with a sell-out season before the curtain even rose on the opening night performance.
The tale of the barber who ruthlessly murders his victims for their possessions, or personal revenge, before discarding their bodies through a trapdoor to the waiting pie shop below, first appeared in the 1800's but it is through this gothic musical that the tale found a wide audience.
Sondheim teamed up librettist Hugh Wheeler to turn the tale in a macabre gothic musical. In the original 1979 Broadway production saw Canadian actor Len Cariou play the title role, while the legendary Angela Lansbury showed that the role of pie maker Nellie Lovett is the show's best part.
In 2007 the musical was given a cinematic treatment when Tim Burton made it into a film starring Johnny Depp and Helena Bonham-Carter. While the musical has been performed on Broadway and in London's West End many times, the movie opened the work up to a whole new audience.
By adding a musical, which is indeed quite an operatic one, WA Opera have pulled off a successful marketing ploy to introduce the company to a new audience who may not have previously engaged with them. On Saturday night you couldn't help hear the 20-somethings in the row behind us what a beautiful building His Majesty's Theatre was – they'd never been inside before.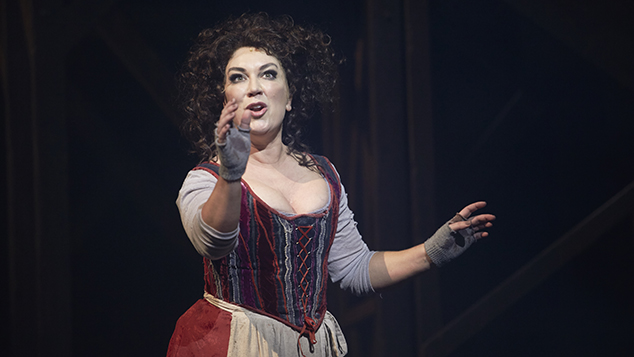 For this production respected actor and singer Ben Mingay takes on the lead role, while Antoinette Halloran delivers a bundle of laughs as pie maker Mrs Lovett. It's one of the great leading roles, as Mrs Lovett is a wonderfully layered character with many great comedic moments.
Halloran nails the comedy of Mrs Nellie Lovett, but also shows us her tender side during her scenes with underling Toby, her sensuality in her interactions with Todd, and her ruthless ambition in her decision to dispose of the bodies by grinding them down and making them into scrumptious pies.
Ben Mingay takes on the challenging role of the show's title character. He carefully straddles the line between being evil and menacing, while still coming across as justifiably seeking revenge against the people who have aggrieved him. His deep rich voice is perfectly suited to Sondheim's melodramatic music.
WA Opera regular James Clayton is perfectly cast as the nemesis Judge Turpin, while Matt Reuben James Ward, as nefarious henchman Beadle Bamford, slithers and slinks through scenes, before revealing a camp and unexpected love of a sing-a-long.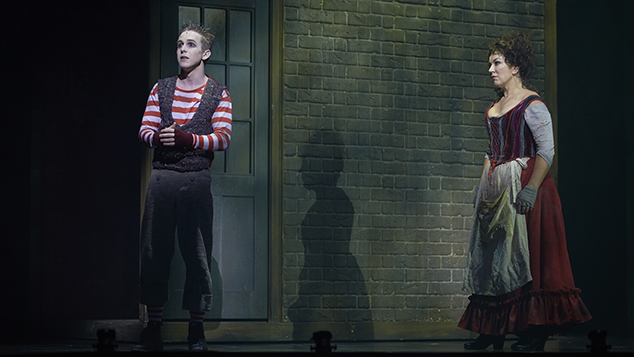 Newcomer Joshua Reckless is perfect as Tobias Ragg, Mrs Lovett's dedicated and gullible assistant. The recently graduated WAAPA student made an impression with his endearing performance.
The cast is rounded out with Nathan Stark, who appeared in another Sondheim work last year – Black Swan's production of Assassins. Stark plays love stuck sailor Anthony Hope. Emma Pettemerides is his love interest Johanna Barker. Paul O'Neil appears as Adolfo Pirelli, while Fiona Campbell is the Beggar Woman and Mark Alderson plays Jonas Fogg.
Tony Award winning designer Roger Kirk's set and costumes transport you to London during the industrial revolution, bringing to life crowded streets, seedy docks and horrendous asylums. The highlight of the set is Todd's barber's chair that with the pull of a level delivers his recently slain victims through a trapdoor to the pie shop below.
The only qualm with this production is there were a few moments when the words being sung were not clearly pronounced, so essential is every word of this work.
With its recognisable tunes, hilarious characters and Gothic setting Sweeney Todd is entertaining and wonderfully relevant for audiences today, beneath its murderous tale flow themes of corruption, deceit and second chances.
It's filled with characters who have taken on new personas to achieve their goals, how appropriate in our social media soaked environment. But even if you take this musical as just an entertaining musical experience, it'll probably be awhile before you'll look at a mince meat pie in the same way.
Sweeney Todd is completely sold out, but you can make sure you don't miss out on WA Opera's next production – Macbeth. 
Graeme Watson
---