WAAPA students take on Virginia Woolf's queer love letter 'Orlando'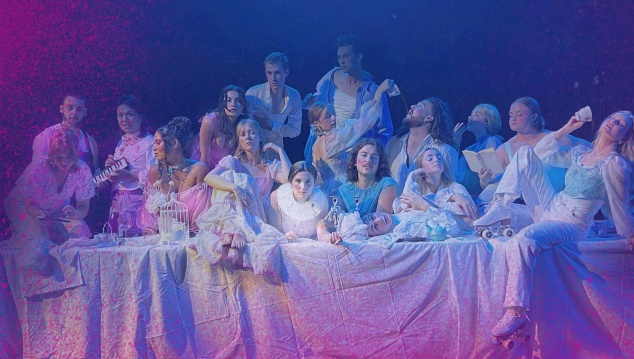 Virginia Woolf's 1928 novel Orlando has been described as the most charming love letter in literature.
Inspired by Woolf's affair with the author and aristocrat Vita Sackville-West, it's the fantastical story of a time-travelling poet and lover who transforms from hero to heroine.
This thrilling tale of liberation from time and gender constraints begins in the Elizabethan age and ends in the 20th century, with Orlando voyaging through it rakishly, having affairs and heartbreaks along the way.
Time and gender blur as Orlando skips and slips through five centuries of change in order to discover what it means to live fully in the present.
Now WAAPA's 3rd Year Performance Making students are putting their own spin on Orlando in Sarah Ruhl's brilliant 2010 stage adaptation of Woolf's novel, with performances from Thursday 30 March to Wednesday 5 April in the Enright Studio.
Under the direction of visiting guest artist Younghee Park, this production will be playful, loud and raw, weaving together the diverse talents of WAAPA's graduating cohort of performance makers.
Park, who is currently completing her doctorate at Queensland University of Technology, is an independent artist trained in traditional Korean performing arts with over 25 years of international experience in physical, multilingual and musical theatre.
"Orlando is written in the beautiful poetic language of Virginia Woolf's original novel and is full of satire, humour, and metaphor," she says.
"We are bringing this cheeky and mischievous text to life by weaving in the rhythms and musical quality of rap and hip-hop to create a performance that is exciting for a 21st century audience."
Park describes working with the 3rd Year Performance Making students as rigorous, inspiring and full of joy.
"Watching them constantly endeavour to foster a safe and inclusive creative environment throughout the entire process has given me hope again for the future," she says.
Orlando is playing at WAAPA from Thursday 30 March to Wednesday 5 April. For tickets and more info, head to waapa.ecu.edu.au
Declaration: Graeme Watson is an employee of Edith Cowan University.
---

You can support our work by subscribing to our Patreon
or contributing to our GoFundMe campaign.