Wentworth announces new cast members for Season 6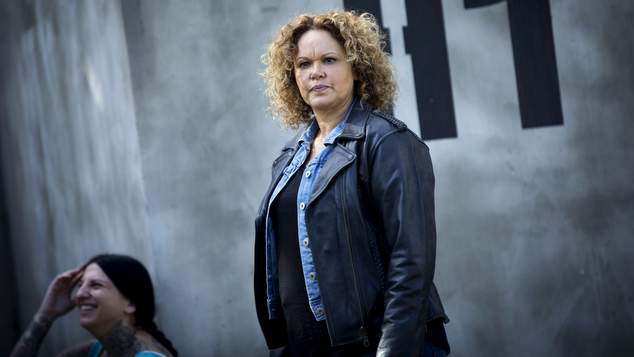 Fans of TV show Wentworth are eagerly anticipating the sixth season of the popular show, today Foxtel has revealed three new cast members who'll be joining the drama.
Respected Australian actors Leah Purcell and Susie Porter along with one of Australia's rising stars Rarriwuy Hick will join the cast in the new series which premieres on Tuesday June 19.
Leah Purcell plays Rita Connors who presents as a spirited, independent indigenous woman, closely affiliated with the Conqueror biker gang. Rita arrives at Wentworth on remand with her trial and sentence pending for Robbery Armed with an offensive weapon.
Purcell said she was a fan of the show and was thrilled to be joining its cast.
"When I was approached to be part of the Wentworth family, I couldn't believe it. I've watched the show from the very first series, not just to support Australian drama but also because of all the amazing, talented, beautiful and strong female actors that make up this show. I love it!
"Being able to collaborate on Rita and help with her storyline was a privilege. You dream of this type of role; it's normally the blokes that get all the kick-arse characters, the physical aspect to her was a big plus. Developing her with all the talented and supportive people behind and in front of the camera, with the whole Wentworth team; what an honour."
Susie Porter, best known for her roles in Welcome to Woop-Woop, East of Everything, Puberty Blues and Hounds of Love will play a criminal matriarch.
Porter enters Wentworth as powerful and feared criminal matriarch Marie Winter. Marie is a seducer and the lynch pin behind a diverse sex trafficking and prostitution industry. But despite controlling a criminal empire, she has never been to jail, always managing to cleverly remain at arm's length from the law until now with her sentence pending for Assault – Reckless infliction of grievous bodily harm.
"I absolutely loved working on Wentworth season 6. It's amazing to be part of such female driven show. The storylines are full of twists and turns and the stakes are always high. It's just so much fun to be part of it." Porter said.
Rarriwuy Hick will play fit young boxer Ruby Mitchell who finds herself at Wentworth for assault and resisting arrest, putting her promising boxing career on hold. She's hot-headed, smart-mouthed, funny and loyal. Frustrated by her inability to box, Ruby's intense flashes of uncontrollable anger see her transferred to H Block during a riot.
Hick said it was a dream role.
"For a young actor, the role of Ruby is one you dream of coming your way. She's feisty, funny and incredibly complex which makes playing her challenging and so satisfying. To be part of such a respected ensemble is a real privilege."
Season five of the show ended with a cliff hanger, fans will be eager to see what happens in the wake of the escape of Franky (Nicole da Silva) and Joan Ferguson (Pamela Rabe).
Following season five's jaw-dropping finale, season six resumes with almost all of Wentworth's inmates and officers stunned by the apparent joint escape of Franky Doyle (Nicole da Silva) and Joan Ferguson (Pamela Rabe).
Wentworth S6 will premiere on Tuesday June 19 at 6.30pm AWST and can be streamed on Foxtel Now and seen on Foxtel's showcase.
Source: Media Release
---