Cinema: Whiskey Tango Foxtrot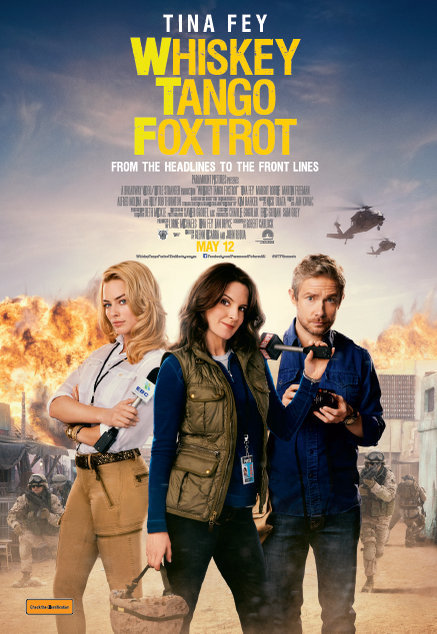 It's a classic saying – "Don't judge a book by it's cover", and the same applies for films, don't judge them by their promotional images.
When I was invited to see the new Tina Fey movie 'Whiskey Tango Foxtrot'. The invitation came with a poster for the film.
Comedy queen Tina Fey, star of '30 Rock', 'Saturday Night Live' alumnus poses alongside a very sultry looking Margot Robbie, while British actor Martin Freeman hovers behind. The film's producer by SNL founder Lorne Michaels.
Is it 'Anchorman' in a war zone I wondered? Does Martin Freeman get all the roles that used to go to Hugh Grant? How does Margot Robbie keep her shirt so crisp and white in the middle of the desert?
Knowing nothing more of the film aside from what I could gleam from it's poster, I headed off to the cinema to see it and was pleasantly surprised to find its something quite different.
Based on the autobiography of journalist Kim Baker, the film follows the journalist as she moves from a ho-hum desk job in NYC to diving into being a war correspondent in Afghanistan.
At first Baker (Fey) tries to hold on to her old life back in the USA but slowly she adapts to life in Kabul, a city with different customs, constant danger and a cast of outrageous characters who choose to work in the middle of a war zone.
Margot Robbie plays journalist Tanya Vanderpoel who works for a competitor network, but bonds with Baker as their are few women in their workplace. Christopher Abbott, unrecognisable from his role as Charlie in 'Girls', delivers a great performance as Baker's translator Fahim. Martin Freeman plays independent Scottish photographer Ian McKelpie.
The supporting cast is filled out by Billy Bob Thornton as a Marine General, Alfred Molina has a lot of fun as a senior Afgan politician, and unexpectedly 'Home & Away' actor Steve Peacocke appears as Baker's security detail.
Baker struggles both in being one of the few women in her profession reporting from the Middle East, and also fights against the assumptions and customs of both the military and the local people's traditions to show she can deliver the right stories.
The film also bluntly focuses on the transition people go through when they stay in absurd and unusual workplace for a long period of time. As the months and years drag on Baker and the other journalists become more daring, take greater risks and begin to pay high prices for their bravado.
While this movie is a comedy, there's a lot of drama and emotion contained in it as well. You can imagine a pitch a Hollywood executive in a pitch meeting describing it as a 'Good Morning Vietnam' for a new generation.
'Whiskey Tango Foxtrot' is not going to win any awards, but it was enjoyable and fun to watch, and had some great entertaining moments. I'll also admit I suddenly understood it's 'W.T.F' title as I was leaving the cinema.
'Whiskey, Tango, Foxtrot' is in cinemas now. 
Graeme Watson 
---

---