Wonderful Copenhagen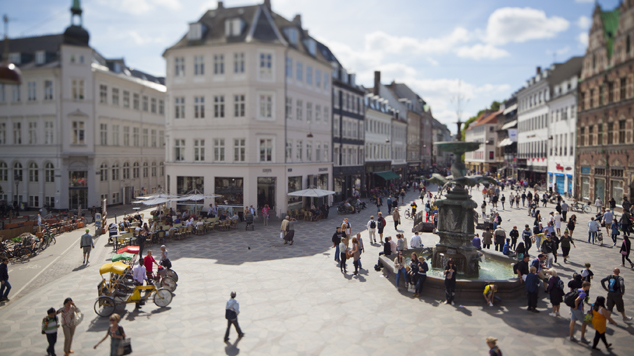 Travel bible 'Lonely Planet' has just named Copenhagen as the number one place for LGBTIQ travelers to visit.
Highlighting Denmark's forward thinking approach to LGBTIQ rights, the report also highlighted the city's fashion industry, great gay bars, excellent accommodation, a plethora of events and very welcoming local community.
To show how much Copenhagen values their local queer community they recently renamed one of the city's many cobblestoned squares. Rainbow Square. Adjacent to the historic Copenhagen City Hall, the square is also home to Oscar's Bar and Café – a great hangout for the local community.
The city has many cozy venues to check out, all within a short walk of each other. The recently opened G-A-Y Copenhagen is a small bar which fits just a handful of people but the dance floor is pumping and there's a friendly crowd. If you can't squeeze in here, head around the corner to Cosy Bar or Masken Bar. If you like wearing leather or denim Men's Bar might be to your liking, and there's even a women's venue: Vela.
The great thing about Copenhagen is you can easily walk around, or grab a bicycle. The city has more bicycles than people and hardly anyone drives.
The city is filled with cobbled streets, quaint coloured buildings, beautiful parks and pathways for relaxing walks along the river. Some of the sights to check out include the statue of The Little Mermaid, the old military fort Kastellet, the world famous Tivoli Gardens and the impressive Church of Our Saviour.
The four hundred year old church has an impressive corkscrew spire that can be climbed revealing impressive views over the city's rooftops. Inside the wooden structure is a maze of well-worn stairs and ladders. Squeeze through the tight doorways to get to the top and climb the final stages on the outside of the spire.Terrifying, but worth it for the scenery.
Denmark's famous for its design and furniture – make sure you visit furniture store Illums Bolighus – you'll want to completely redecorate your house.
You'll also have a great time exploring the world of Danish food. They are masters of pastry and cakes, so you'll find yourself indulging in morning coffee and afternoon tea to try out the wide variety of baked goods. Then there's all the meatballs, open sandwiches and new Nordic cuisine to sample too. Breakfast in Denmark is quite an event as well with pickled fish, crisp breads and fish paste galore.
Copenhagen has heaps of affordable accommodation near the city or just a few train stations away. For something a little different take a look at the STAY apartments. These gigantic minimalist apartments will make you feel like you live in Copenhagen – completely worth the additional cost.
For more info visit www.visitcopenhagen.com
Graeme Watson
Graeme visited Copenhagen in May 2014.