Would You Swipe Right on Hilary Duff's New Video?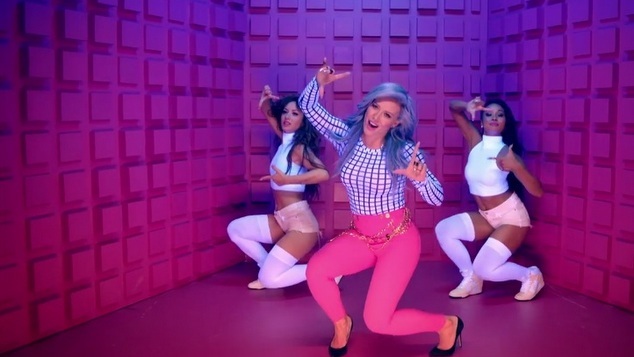 Hilary Duff, a.k.a. the artist formerly known as Lizzie McGuire has returned to music with a new video for her song 'Sparks'.
Duff has released four studio albums, two reaching platinum status in the US, starred in a number of films and released a trilogy of novels and a clothing line. 'Sparks' is the single from her upcoming fifth studio album, 'Breathe In. Breathe Out.', her first since 2007. Watch the video below so we may consider its wider cultural implications.
The song itself is a delightful Kylie-esque bubblegum pop number, but its accompanying video has some fans confused. Of course there are the requisite clips of Duff in a series of sequined ensembles backed by a pair of dancers in short shorts. However, what ought to be delightfully simple choreographed fun seems to serve only as brief respites from a four minute documentary about the singer's experiences on Tinder.
The footage of Duff performing the song is interspersed with footage of her swiping away on her phone, going bowling with her friends, deciding whether or not to meet Jason who likes Sriracha and inflating her mouth with a hair dryer because she's just so wacky like that. Frequently the song itself becomes a mere backing track for Duff's musing on her foray into app-based dating.
"I never ever thought I would do something like this, and when I just surrendered to the experience, I had a great time." she says as she straps herself into a go-kart.
What does this all mean? Is this an advertisement for what may be the world's most ubiquitous dating app? A public service announcement that Duff is single and ready to mingle? An unconvincing attempt to assure the public that America's real life Disney princess is just a regular gal about town looking for love and not a cyborg sent to destroy us all with an illusion of human perfection?
We can but imagine. As YouTube commenter Serenityblu23 says, "what is tinder? is this a real music video???  I'm so confused."
Aren't we all, Serenityblu23? Aren't we all.
Sophie Joske