Xavier Rudd Ready for Blues and Roots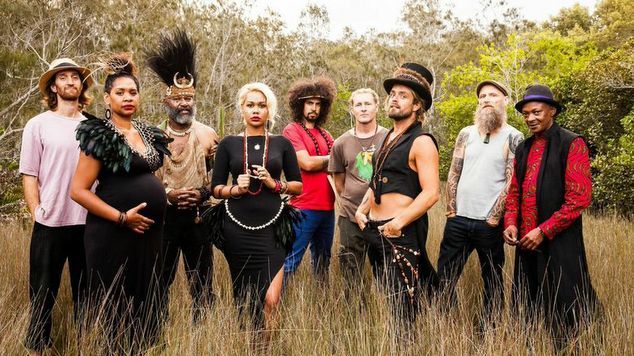 Australian singer-songwriter and multi instrumentalist Xavier Rudd is heading to Perth next month for the West Coast Blues and Roots Festival.
The respected musician is entering a new stage in his career.
After seven solo albums he's created a band – The United Nations and they're just about to release their first album.
The album 'Nanna' was produced by legendary reggae producer Errol Brown, famed for his work with Bob Marley and the Wailers.
Xavier Rudd spoke to OUTinPerth's Graeme Watson.
I was looking at all of the instruments that Wikipedia says you can play… have you ever picked something up and gone "nope, I can't master this"?
I don't know what Wikipedia says I can play… yeah I play a few of different instruments, I don't know if I play anything well, but I'll have a crack on a few.
I taught myself to play everything that I play and I like it that way. I feel like it's a raw expression. With an instrument, if you're not told how to play, you react to it in different ways and that creates different tones, so I like that.
The new album you have coming out soon is with a new band, what's this process of working with a new team been like?
Very powerful bro! It's something I've wanted to do for a long time, to get to put together a big reggae band.
I've was very patient with that quest, in that I wanted it to be super heavy and that's what has manifested now after all these years after waiting for the right time and it's a banging band and it's been an honour to be a part of it.
It's a huge collaboration of spirit and ancestry from all over the place, everyone's from a different culture and bloodline and everyone's got amazing stories of time that comes through their  music and the way that they play – that's why I call it the United Nations. Quite a united tribe of musicians, there's a lot of ancestral presence in their music.
Do you find that across all cultures? Is it a universal thing?

Yeah definitely. I feel that any musician that plays from the heart plays the story of their people and struggle and all  the things that all cultures on this Earth have gone through is always present in the way that music flows. Next to childbirth, it's probably one of the most natural things on this planet. You can't put a title on it.
Do you find yourself discovering new music from strange places?

I don't have anything lately that I've gone "wow" and dived in to. I guess I've been pretty preoccupied with making this record and that required a lot of listening. In the past, I've finished making an album and I haven't listened, I turn it off for a while. I listen to the music but I'm not seeking inspiration, I'm doing other things and enjoying the quiet.
What was it like working with Producer Errol Brown?
It was really, really interesting. Really cool. It was an honour that he wanted to work on this record. He really connected with it and that showed big respect to the sort of 'grandmother' spirit of this album and he lost his mother during the process of mixing it, so it kind of touched him to be on that which was really powerful.
So he got right into it and really put his heart and soul into it. It was fascinating talking to him on the phone, I couldn't understand a word he said half the time. He had a  very very positive attitude and it was a real honour for me.
The man whose mixed all those Bob Marley and the Wailers tunes that we all know so well and to have him so into the project was beautiful.
You're coming across to Perth soon for the Blues and Roots festival. It's a huge event here in Perth, are you looking forward to that gig?
Yeah bro! I'm looking forward to all the shows. It's a bangin' band man, it's very very cool, it's going to be really fun. I think people are really going to enjoy it and I can't wait to play. We've recorded but we haven't played yet. It's the first tour of this band ever!
You've got a massive tour of the US lined up as well. When you're about to head off on a big tour, how does it feel?
At this point, it's a bit daunting when you first go. There's a lot of shows and a lot of time away from home and it feels like a lot of work sometimes, but it's very powerful work.
When you get there and you start to play the shows it's sort of when the music takes over. Every tour becomes kind of a link in the journey. They're all connected so you kind of enter into this zone which lasts for the tour and changes every day. It's very meditative in some ways, very hectic in other ways.
Blues and Roots is going to be a huge crowd. Some places the gigs on your US tour are much smaller. Does that make a big difference for you as a performer?
I don't really notice much difference to be honest, we do all sorts of shows, all sorts of sizes and capacities. There's always a strong energy happening. I'm really lucky because a lot of good people come to my shows and it's a very strong feeling, good vibes.
It doesn't matter if there's 10000 or 1000, the only thing with a big show like that is that there's a bit of separation between the audience and the stage, I don't like that. I like when the stage is closer.
The first single is out, "Some People". How did that song come about?
It's a medley and it's kind of a long story… in terms of that it came from almost like a whirlwind spin. If you have a dream of places you were. A lot of that time was spent in Peru and Nicaragua and back home in the Kimberley and I was chipping away at that song and sort of dissecting where people go and peoples religion and ceremonies and human ego and comparing that to our place in creation and how close or how far removed we are.
Xavier Rudd and the United Nations play the West Coast Blues and Roots Festival on Sunday 29th March. Check out their first single 'Come People'.    
​