Yirra Yaakin bring the powerful 'Huff' to Western Australia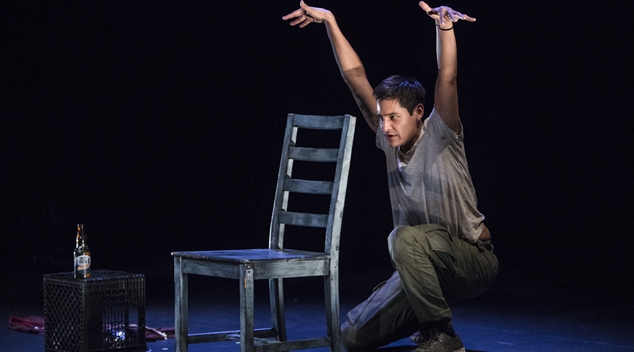 Huff | Subiaco Arts Centre | Until 24th March | ★ ★ ★ ★ ★ 
I've never seen my friend and theatre companion speechless before. Watching Huff, by performer and playwright Cliff Cardinal, did just that.
Cardinal is an indigenous Canadian, telling stories of a taboo subculture within Canada's First Nations' people. While the issues presented are emotionally heavy going, Cardinal has managed to infuse an exceptional amount of humour into his one man show. It's no surprise that Huff has won numerous awards.
Huff's main character, Wind, is one of three brothers living in a dysfunctional family within a dysfunctional community. The boys' alcoholic mother has committed suicide and they are left with their alcoholic father who quickly brings a new girlfriend into the family home. He is offered some guidance, Indian medicine and spirituality from his grandmother. Wind copes with life by sniffing petrol (huffing) and indulging in fantasies produced by his wildly vivid imagination.
Cardinal's characterisations are impressive. Huff is not a monologue. It is a lively and dark tale of modern day trauma, told through various interactions between a number of characters, all expertly played by Cardinal. A simple change in the way a piece of clothing is worn, a change in voice and Cardinal transforms from one brother to the next, from parent to school teacher and to mad skunk.
The show traverses through stories of substance abuse, sexual assault, incest and suicide. It's blunt yet also subtle in exploring many aspects of these issues. It's a very real story of how children cope when they have no other viable options of escape. It's raw and challenging at times.
Kyle Morrison, Artistic Director at Yirra Yaakin, made a short speech after the show, commenting on the many parallels between Wind's story and the reality of many of Australia's First Nation people. He stressed that these stories are common among First Nations' people around the world and these conversations need to be started.
Don't see Huff alone. Go with a good friend because you'll want to talk about it.
Huff is presented by Yirra Yaakin Theatre Company and Cunning Concepts & Creations (Canada) and showing at the Subiaco Arts Centre. Head to yirrayaakin.com.au for more info.
Halimah Halse
Image credit:- Jamie Williams
---
Do you need some support?
If you are struggling with anxiety or depression, support and counselling are available from:
Lifeline: 13 11 14
Beyondblue: and www.beyondblue.org.au
QLife: and www.qlife.org.au
QLife are a counselling and referral service for Lesbian, Gay, Bisexual, Transgender and Intersex (LGBTI) people.
---