Abbe May holds nothing back with new country tinged single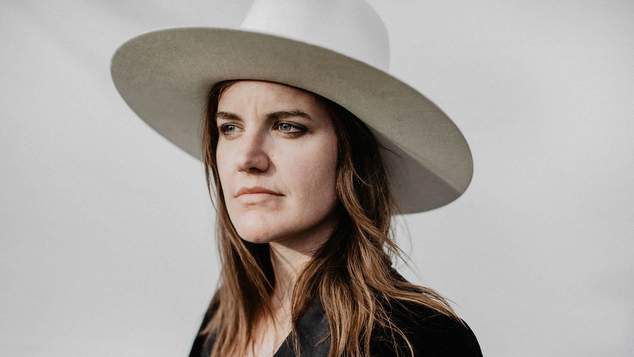 Abbe May just keeps getting better and better with each new track she puts out. The Perth based singer has taken a surprising turn into the country realm with her new song F..k You. 
The tune is the first sample from May's forthcoming album Red Flag. The new album comes hot on the heels of her most recent offering Fruit, which was only released a year ago.
Abbe May said she taken some time off after her last record to take stock of where she was emotionally, taking some time to herself saw an unexpected flow of country sounding tunes.
"I've been so consistently happy for about eight months now, so it's strange to look back and think upon how I've been just recovering from a really low time in my life by shutting myself off from anything social and just playing my acoustic guitar. And of course, all these country songs just kept coming out," Abbe said.
The result of that healing is F..k You, a song that goes beyond assigning responsibility for trauma continuing to self-care and putting yourself together when you've been taken down.
"F..k You is about escaping a time when I felt very frightened in social situations. For a time I sincerely was too frightened to leave my house, I couldn't sleep and I felt like I was going insane. I think because I have such great periods of life I know by contrast when I am in need of help," Abbe said.
"So, I had some kind of breakdown. The second I can identify in my life. But my breakdown was ultimately a breakthrough, and I no longer let myself shrink around bullies. So, F..k You is me reclaiming my sanity and taking my power back."
Fans of Abbe would already be familiar with F..k You with the track making its first appearances on her Fruit tour last year, taking her already intimate shows to a new, personal level shaping and sharing her story of recovery with her audience.
"I started playing F..k You when I was touring Fruit and the audiences were just so consistently excited by it, I knew I had something that connected. I guess the subject is so relatable, but I wasn't sure I wanted to make myself this vulnerable, you know, it's a pretty brutal tale and I felt like such a fool recovering from it," Abbe said.
"So, F..k You took a lot of time and thought and therapy to get to a place where I felt ready to make my own foolishness and vulnerability permanently public beyond the intimacy of my live shows, I don't particularly like being this vulnerable but I don't really know how else to make the music good."
Abbe's excited about breaching a new genre of music she's not tackled before, country music.
"I make the music I want to hear. I've made most other kinds of music, so now I want to try make a country record, I'm going to call it Red Flag. I like the way you can't rely on production with country music, the really good stuff can be played with just an acoustic and still blow your head off. I wanna see if I'm good enough songwriter to make a country album. I want to do whatever the f**k I want, with whomever the f..k I want, whenever the f..k I want, because I could be dead in a second… so I guess it's a country album with Matt Gio on production this year."
Take a listen to the first tune F..k You. 
OIP Staff
---