Actor Joshua Jenkins on The Curious Incident of the Dog in the Night-Time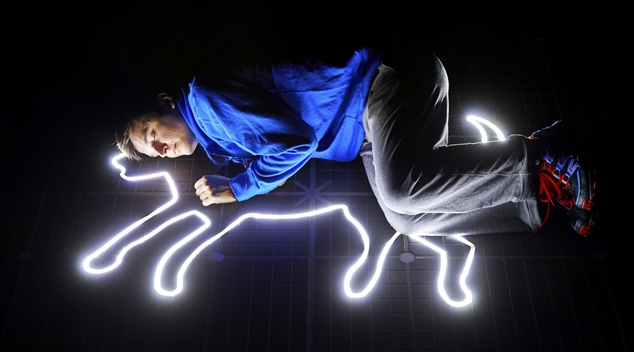 The Curious Incident of the Dog in the Night-Time has been hailed as a theatrical masterpiece winning a swag of Olivier and Tony awards and having sellout seasons around the globe. In August English National Theatre's production of the play will make its way to Perth for a limited season at the His Majesty's Theatre from 8-19 August.
Simon Stephen's adaptation of the best-selling novel by Mark Haddon tells the story of fifteen-year-old Christopher John Francis Boone.
The story begins with Boone as he stands besides Mrs Shears' dead dog, which has been speared with a garden fork, it is seven minutes after midnight and Christopher is under suspicion.

He records each fact in a book he is writing to solve the mystery of who killed Wellington. He has an extraordinary brain, is exceptional at maths, while ill-equipped to interpret everyday life. He has never ventured alone beyond the end of his road, he detests being touched and distrusts strangers. But his detective work, forbidden by his father, takes him on a frightening journey that upturns his world.
OUTinPerth chatted to actor Joshua Jenkins who takes on the lead role in the production.
What's it been like playing this role, you've been playing it for quite a while now?
I started on the UK tour which was a couple of years ago now. Then I had a little break in the middle and then I joined up again to do the international tour, which was back in September.
It's been quite a while, we've been on the road for ages. We've been to Europe, North America, China, all of Asia and Australia. It's been a life changing experience.
It's like I'm on my gap year or I've won some sort of competition. It was amazing playing this role in the UK, but playing all over the world you get to meet people who have had different experiences, and different audiences – who respond differently. It's been incredible.
How have Australians responded to this play?
It's been great, we've only been to Melbourne so far, now we're in Brisbane and soon we head to Canberra before we arrive in Perth. The book and play means so much to so many people across the world.
The Curious Incident of the Dog in the Night-Time is an incredibly long title what do you call it for short among the cast members.
Yes – it is such a long title, it's a direct quote from a Sherlock Holmes story. We just call it 'Curious' or 'Curious Incident'.
Watching the video trailer for the play it looks like an incredibly physical role to take on.
It certainly is. In the book Christopher describes what he's thinking and how he's feeling and it's never mentioned in the book, but he has many of the qualities that would be found in someone who is on the autism spectrum.
He described how going to a train station to him his loud, scary and intrusive, but that's not all that interesting to do theatrically.  So we use lighting, sound and music, projections and physical theatre. So what might be a page in the book can be turned into a ten minute movement section of the play. Christopher is literally walking along the four walls and getting thrown about and getting tumbled everywhere. It gives the audience an immersive experience.   
For us as the actors it's very demanding, it requires us to remain very fit during the duration of the contract.
As an actor you have to deal with all the audio visual elements, that must be quite different to a show where's there's just lights and floorboards.
I think it the sense it's an immersive experience for the audience, it also is for the actors on stage. The sound and music give you a constant soundtrack for the performance. It's much easier to feel stressed out when there's strobe lights flickering and projections being thrown in your face. For the actors I think it's almost like cheating – the set and the stage do a lot of the work for you.
You're the seventh actor to play this role. Do you get to meet the others actors who have been Christopher John Francis Boone?
I've never met any of the other actors actually. When I first got the job on the UK tour a couple of months before they'd open on Broadway and the actor playing Christopher there, Alex Sharp, sent me a lovely email saying welcome to the Christopher Club, you'll have the best time, but we've never met up, but we should. We should have a Christopher Boone night out!
Our tagline at OUTinPerth is 'something different' what has this play taught you about people who are a little bit different to everyone else?
I think the play is a celebration of difference. I think it's about how we in society treat people and view to people who see the world differently, and it's about having an open mind and acceptance of that
I think that's why Christopher becomes a hero for so many people who read the book or see the play, they can identify with him. It's the other people around him who are the weird ones really, they're the oddities in it. Christopher's got a beautiful mind and a wonderful soul and everyone can afford to be a little bit more like him.  
The Curious Incident of the Dog in the Night-Time opens at His Majesty's Theatre on 8th August. Head to tickets.ptt.wa.gov.au to buy tickets.     
Graeme Watson
Photo:- Brinkhoff Mögenburg