Alex Rathgeber chats to us about his role in 'The Mousetrap'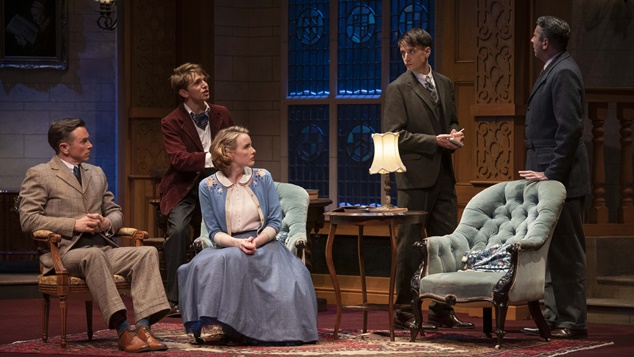 Agatha Christie's The Mousetrap is touring Australia to celebrate its 70th Anniversary, produced by John Frost and directed by Australian theatre icon Robyn Nevin. The Australian production premiered at Theatre Royal Sydney in October before touring the country. The Perth season will open at his His Majesty's Theatre from 8 April.
The Mousetrap had its world premiere on 6 October 1952 at the Theatre Royal, Nottingham. After a brief tour, it opened in London's West End on 25 November 1952 at the Ambassadors Theatre, where it ran until 23 March 1974. It immediately transferred to the larger St Martin's Theatre next door, where it continues to this day.
The longest-running West End show, it has by far the longest run of any play anywhere in the world, with over 28,500 performances so far. The play has a twist ending, which the audience are traditionally asked not to reveal after leaving the theatre.
International theatre star Anna O'Byrne plays Mollie Ralston, the young owner of Monkswell Manor, a Victorian era estate that has recently been converted into a guest house. Helpmann Award winner Alex Rathgeber plays Giles Ralston, Mollie's husband of one year.
Laurence Boxhall is Christopher Wren, a flighty and neurotic young guest at Monkswell Manor. As the seriously unpleasant retired magistrate Mrs Boyle, Geraldine Turner returns to the stage, alongside Adam Murphy as retired British military officer Major Metcalf.
In her professional stage debut, Charlotte Friels plays Miss Casewell, who remains mysteriously aloof from the other guests. As Mr Paravicini, an unexpected guest at Monkswell Manor, legendary Gerry Connolly stars, while Belvoir favourite Tom Conroy plays Detective Sergeant Trotter.
OUTinPerth's Graeme Watson spoke to Alex Rathgeber who plays Giles Ralston in the play. Alex previously received a Helpmann Award for his performance as Billy Crocker in the musical Anything Goes, a Sydney Theatre Awards nomination for his role as Sid in An Officer and a Gentleman.
On London's West End, he played Raoul in The Phantom of the Opera, before returning home to appear as Robert in the Australian premiere of The Drowsy Chaperone with Melbourne Theatre Company. Most recently, Alex appeared in North By Northwest as Roger Thornhill.
Alex's other stage credits include Simon Stride in Jekyll & Hyde – 25th Anniversary Concert, Tin Man in The Wizard of Oz, Carl Bruner in Ghost the Musical, Greg Connell in The Boy From Oz, Brad Majors in The Rocky Horror Show, Joe Kennedy Jr and Jerry in Grey Gardens, and Lancelot in Camelot.  On television, Alex has appeared in Miss Fisher's Murder Mysteries, Rush and Winners and Losers.
Tell me who is Giles Ralston in The Mousetrap? 
Giles Ralston, he is a pretty happy-go-lucky newlywed. Relatively recently married to Molly Ralston, and her aunt has left to the both of them this beautiful manor house called Monkswell Manor, which they've decided to turn into a guest house.
He's very dutiful as a husband. I think he has probably an inclination to sell the property and take the cash and do something else, but he's kind of going along with her plan to turn it into this guest house.
That's when we meet him and her at the top of the play. Of course, from there everything unravels at the guest house. But I won't go into to any detail. We're all sworn to secrecy, thanks to Agatha Christie.
Isn't that amazing. For a play that has been on for 70 years, over 70 years now, the secret of the ending as been kept. Everyone knows that Darth Vader is Luke's Dad, but I honestly couldn't tell I could tell you about The Mouse Trap. 
It's really, it's a bit of a phenomenon, isn't it? When you think about it, there aren't many secrets that are that well-kept in the world.
So many people have seen it. 
There are millions, literally millions and millions of people now who've seen it. Whether that was the original version in the West End or the numerous productions that have happened around the place.
I've never seen it as an audience member, I've only ever been in it, but I think people must feel a sense of being part of the club. Like 'I'm the lucky one that knows, and I'm going to do my best to sort of, I enjoyed myself so much watching it, and I'm trying to figure it out, I don't want to spoil it for the next person.'
So thankfully, you can't find the information too easily on on the web either. And you can find a lot of things on the web these days pretty easily. But from what I understand, it's pretty hard to find 'who done it' on the web, so that's good.  I think the fact that people enjoy the process of trying to solve the mystery so much, and having and being so entertained along the way, just means that they're invested in keeping the secret.
I find quite nice to know that you haven't seen it either, and you lived in London for a long time. It's a weird thing, because it has that record as the longest continuous running production. I think, Australians, when we go to London, we always assume it will always be there, so we go and see the latest phenomenon instead.
That's so true we find ourselves queueing up cheap tickets and it's usually the things that are only on for a brief period of time. So you think 'I'll go and see that because that might not be on next time, whereas The Mousetrap just being there forever, and it'll probably be there forever.
Now that I've done it, I know why, I probably, like many people, somehow discounted the quality of it through the assumption that it's just sort of this old, perhaps tired, part of the furniture of London sort of thing.
The quality of the script is incredible. And then been working with Robyn Nevins who has helped us find probably even more in depth than we even first read. It's been an amazing process.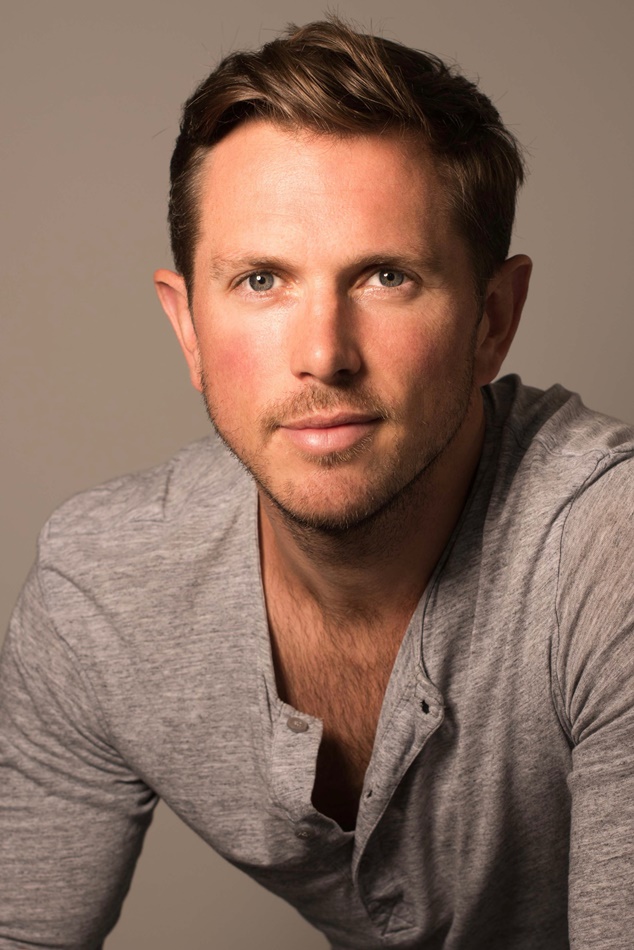 You worked with Robyn before as an actor, what's it like working with her as a director? 
It was a few years ago. I was I was a little bit greener at that point, and we were in the cast together. It was very different. It was a musical, we were learning very tricky Andrew Holdsworth choreography. And, but in some ways, that piece, The Drowsy Chaperone, has some similarities to this. It's quite a farcical, over the top, sort of premise. There are a few similarities in this. It's not full farce, but there's some farcical elements to this production which are really joyful.
The rehearsal room was just so, so exciting to get into, because every day we were sort of dissecting the script really pulling, pulling apart the story, to get into minutia, so that we could then build it back together again, and in a way that allowed us to really control what the audience was seeing and thinking and feeling.
Because as you would imagine, within that industry, we want to make sure that we're giving them the clues that they need to have along the way, but also, in such a way that we're not giving away too much. That's been really, really fun to play with.
You've done a number of dramas recently. What's it been like stepping out of the world of musical theatre and doing more drama.
Lot of people have been asking me, so many musicals, and now you're doing plays. I've wanted to have a crack at this 'straight play' in inverted commas, as everyone calls it, for a long time. Really my whole career I've been wanting to do this. I've been really honored and delighted to have the opportunity. I did North by Northwest last year, which is set in 1959 in America, now this one's set in 1952.
While everyone notices two straight dramatic roles in a row, nobody asked you about having two plays set in the 1950's in succession.  
No, no. So, I'm waiting now for the 1956 or 55. Maybe in an Australian setting.
We do like to put people into boxes.
I consistently say to people, 'Just remember, I've done a lot of acting for all those shows that I've done.'
There's been a hell of a lot of acting in all those musicals, and they're not all the same, it's been great, I've been really fortunate to do some dramatic musicals like Phantom of the Opera, and An Officer and a Gentleman. All these dramatic shows that I've had a chance to sink my teeth into.
I've also loved comedies like Anything Goes and The Wizard of Oz and Rocky Horror Show. All those different opportunities of being able to, I suppose, flex different skills and really sort of dig into my bag of tricks and try things out and gain a lot of experience.
It's all helped, you know, to getting to this point where I feel like I can stand on that stage and feel really sort of just confident. It's just a thrill to be to be up there with Anna O'Byrne, who plays my wife, she's just absolutely gorgeous. And she's come along on a not dissimilar journey, I suppose doing a lot of musical theatre and a lot of singing, but also being able to, through those different shows, work in different styles.
See The Mousetrap at His Majesty's Theatre, tickets are on sale now.  
---

You can support our work by subscribing to our Patreon
or contributing to our GoFundMe campaign.