It's Alright! 'Sweet Dreams' is Coming Back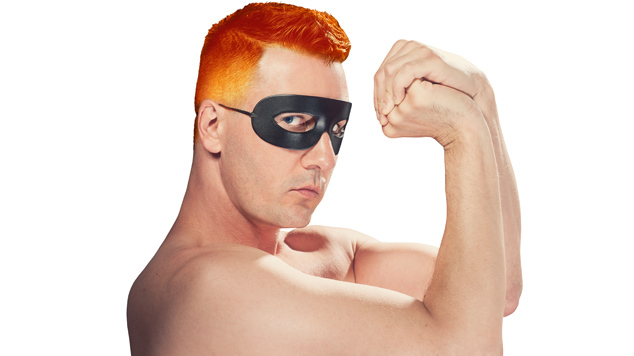 Michael Griffiths' 'Sweet Dreams: The Songs of Annie Lennox' was so popular when it was in town last year, the show was quickly sold out. Luckily for everyone who couldn't get a ticket, the acclaimed cabaret show is back for Fringe World.
OUTinPerth caught up with Michael ahead of his trip to Perth.
What was it like exploring the works of Annie Lennox in comparison to your last show, which was foray into the works of Madonna?
Annie was my idol growing up, she was my first pop hero, contrary to me doing a show about Madonna. Annie was my idol, I had all the Eurythmics music on cassette and vinyl; it was the '80s.
'Sweet Dreams' the song was actually my first pop memory and I remember it being on the radio, and I must have seen the video clip too, because I just remember that song being like a mantra. Which how Annie has described it. It doesn't have verses or chorus, it's just repeating this idea over and over. I was like, "Wow! This is pop music and I love it!" I would have been about nine years old.
She was quite a confronting pop star in the '80's just visually, when I was a kid I was a little bit afraid of her.
Well she looked like a man and had this incredible ivory skin, she looked a bit like David Bowie really, back when he was going through his alien from outer space phase. She looks very other-worldly, but she certainly changed.
By the time the 'Revenge' album came out, it was filled with guitars and they were a touring band and Annie was there is her red brassiere and red lipstick. Suddenly she was uber-feminine, but there's always a strength with her, even when she's pretending and playing dress-ups.
In developing the show did you discover a lot of things you didn't know about Annie Lennox?
Mainly I learned more about her relationship with David Stewart. I'd always thought that maybe they'd flirted with the idea of romance, but they had been a very serious couple for about four years.
It's hard to imagine that you'd go on and work with your ex for years.
Well obviously that was the source of a lot of frustration and pain, but also a creative catalyst. Those wonderful songs about heartbreak and betrayal and jealously. I'm sure more than Annie would like to admit so many of those songs came out of that situation of her working with her ex-lover and dealing with all of those feelings.
I reckon 'Who's That Girl' is just about Dave and him dating other women. In the video they do a whole lot of play acting, but I think it's very real. The reason the songs resonate is because they come from places of truth. It was interesting to find out about the depth of their love, and the subsequent pain that came out of that.
As a solo artist Annie Lennox has mainly recorded cover material which is in some ways is a little disappointing.
She has and I don't cover that in this show because it's not about her as a singer. I don't iminate her, either visually or sonically. The show is about her story and what she puts into her lyrics. I don't sing 'No More I Love Yous', people are always surprised to find out that she didn't write it.
There are quite a lot of recurring themes in Annie Lennox's work. There's two songs called 'Angel', and then there's 'Must be an Angel (Playing with my heart)', there's s song called 'Revenge' on an early album, and then their later album is also called 'Revenge'. She's always singing about angels.
I didn't realise, until preparing for this show that Annie Lennox was born on Christmas Day. I think that's a wonderful bit of synchronicity as part of the universe. Whether you're a Christian or not there's something special about that day. I find that fascinating, and tend too have angels as a motif.
Have you see Annie Lennox perform live?
I sat outside at the cricket ground in Adelaide, I think it was the revenge tour. I would have been in year six or seven.
I had tickets to the 'We Two Are One' tour, which was about five years later. That was the tour where she famously left the stage in Sydney early on in the concert because she'd lost her voice, and she cancelled her Adelaide show, I was absolutely devastated! I've never had the chance to see her.
Sweet Dreams: The Songs of Annie Lennox plays from February 3rd to 7th at Fringe World. Get tickets at www.fringeworld.com
Graeme Watson