Anti-LGBTIQA+ televangelist Pat Robertson dead at 93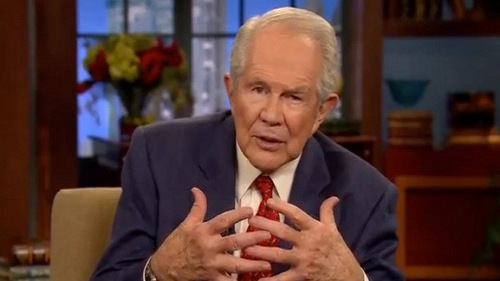 American televangelist Pat Robertson has died, he was 93 years old. He spent decades rallying against LGBTIQA+ people, blaming homosexuality for natural disasters and pandemics, while spreading unsubstantiated conspiracy theories and rumours.
His passing was announced by the Christian Broadcasting Network, the media organisation that he founded.
"Pat Robertson, longtime TV host, religious broadcaster, educator, humanitarian, and one-time presidential candidate, died at his home in Virginia Beach early Thursday morning. He was 93," the company said in a media release.

Born Marion Gordon Robertson, the Christian broadcaster launched his television production company in 1960 where he hosted his own show The 700 Club. Robertson hosted the show from 1966 until 2021 when he handed the reins over to his son Gordon.
Robertson was well known for his 'hellfire and brimstone' brand of religion in which he often blamed gay, lesbian, bisexual and transgender people for natural disasters and people's misfortune.
In 2013 he claimed that gay people have rings that are designed to cut people when they shake their hands, so they can pass on HIV to unsuspecting victims.  The following year Robertson lamented that gay people are no longer stoned to death.
Robertson's television show had just aired a story on a Colorado baker who had refused to sell a wedding cake to a gay couple. Robertson took a 'what would Jesus do' approach to the situation.
"I think you got to remember from the Bible, if you look carefully at the Bible what would have happened in Jesus's time if two men decided they wanted to cohabit together, they would have been stoned to death," Robertson said. "So, Jesus would not have baked them a wedding cake nor would he have made them a bed to sleep in because they wouldn't have been there. But we don't have that in this country here so that's the way it is."
The influential Christian broadcaster then went on to describe how gay people and abortionists were sent by the devil.
In 2020 he proclaimed that the passage of the Equality Act in America "a righteous God will do to us what he did to Sodom and Gomorrah." He also said that marriage equality had caused the covid-19 pandemic, and that an "Atomic War" would break out if Christians were not permitted to discriminate against homosexuals.
Robertson is credited with creating a more relaxed style of religious broadcasting which took the form of a casual chat show around a coffee table rather than a blistering sermon delivered from the pulpit.
Born in Lexington, Virgina in 1930 he was the son of a conservative Democratic senator. He used his childhood nickname Pat as his first name, later declaring that he thought the name Marion was too effeminate.
He studied history in college, but his studies were interrupted when he was drafted into the army in 1948 and served in Korea. He went on to study law at Yale University, but failed the bar exam which would have allowed him to practice.
In 1956 he decided to become a minister of religion after he met author and missionary Cornelius Vandergreggen. He was ordained as a minister in 1961, not long after he had bought a small television station and converted it into a Christian broadcaster. In 1977 he launched a cable network that eventually morphed into The Family Channel.
In 1997 Robertson sold the Family Channel to News Corp for USD$1.9billion, while retaining his religious broadcasting channel. Robertson also founded a private Christian University and also set up a law firm dedicated to supporting Christian ideals.
In 1986 Robertson announced he was running to be the Republican candidate for President of the United States. He was not successful, and the party went on to endorse the sitting Vice President George H.W. Bush as their candidate.
Robertson married Amelia 'Dede" Elmer in 1954. The couple had four children. She passed away in 2022.
OIP Staff
---

You can support our work by subscribing to our Patreon
or contributing to our GoFundMe campaign.