Australia's Biggest Companies Show Support for Equality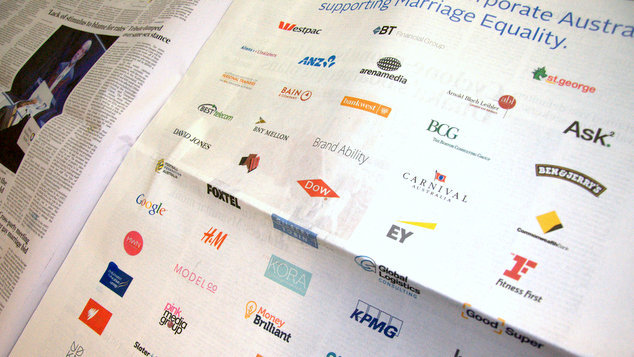 Over fifty Australian brands have come together in the strongest statement yet of corporate support for reform of the nation's marriage laws.
Supportive brands include Westpac, BT Financial, St George, ANZ, Commonwealth Bank, David Jones, Fitness First, Foxtel, Google, KPMG, Optus, PWC, Qantas, Slater & Gordon, Telstra and Virgin Money.
These supporters, along with many more, have signed a letter of support calling for marriage equality to be legislated by Australian parliament.
The campaign, which was coordinated by Australia Marriage Equality took out a full page advertisement in today's edition of The Australian.
Rodney Croome, National Convener of Australian Marriage Equality, said, "The 72 per cent of Australians who support marriage equality will look with pride on those businesses who are reflecting their values, and expect parliament to do the same."
Business interested in adding their support can do so at  www.corpsupport.org.au.
OIP Staff