Author Seth Malacari speaks about 'An Unexpected Party'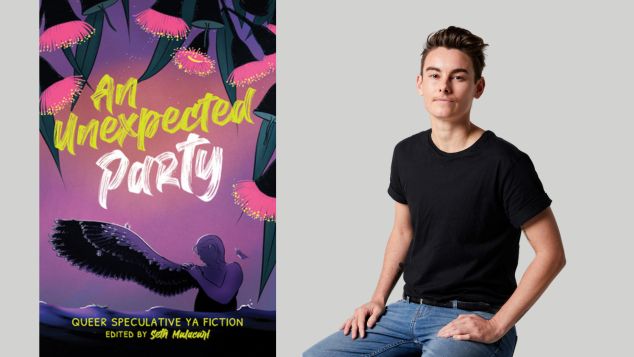 Author Seth Malacari has edited and contributed to a new collection of queer speculative young adult fiction. An Unexpected Party has just been released by Fremantle Press.
From fantastical realms to real-world struggles, this young adult anthology champions queer identity by challenging stereotypes and exploring the many facets of identity.
Written with wit, heart and honesty, these stories take queer protagonists outside the box of YA romance and centre them at the heart of stories that involve magic, paranormal beings and adventure.
Featuring trans and gender-diverse voices – asexual, aromantic, bisexual and more – the stories in An Unexpected Party are as diverse as their writers. Among the authors contributing short stories to the collection are L.E. Austin, Shaeden Berry, Lin Blythe, Elizabeth Bourke, Aidan Demmers, Emma Di Bernardo, Henry Farnan, Jesse Galea, A.R. Henderson, Anna Jacobson, Clover Lake, Jes Layton, Lian Low, Alistair Ott, Em Readman, Lukah Roser, Ash Taylor and Alexander Te Pohe. Plus, the award winning Malacari has also included one of his own stories in the mix too.
Putting together the collection was a challenge for Malacari who had the task of accessing over 75 submissions.
"I was looking for a few key things." Seth Malacari shared when speaking to OUTinPerth about the book. "Firstly, obviously, just good writing, good stories. Stories that stood out to me that I felt I loved."
"It's all speculative fiction, so it's fantasy sci fi, there's a bit of light horror, things like that. I didn't want any explicit trauma stories in in the book, I didn't want instances of where the whole story is about transphobia, homophobia, bullying or things like that. So, any stories that had a really heavy, violent transphobic kind of content, I excluded those, and I didn't want any coming out stories just because it's been done. This book is very much about showing other stories, stories that we haven't heard yet."
In the introduction to the book Malacari speaks about the importance of queer youth being able to see themselves in stories and media they consume. Expanding on their thoughts they told OUTinPerth it is really important young people get stories about being LGBTIQA+ that are not all doom and gloom.
"At the moment a lot of what they see is really heavy, just trauma, and obviously that reality for us for transgender people. But teenagers shouldn't have to only read about that, they need to be able to have things where they can read a book and go to all these characters but also, they're just having fun, it's an enjoyable read, they can read a story and it's escapism, it's fun, and not all the doom and gloom for them." Malacari said.
The author also has one of their own stories in the collection, but the work they included in the book is not the one they'd originally earmarked for inclusion. After another story that was selected was deemed to be quite similar to the work Malacari was intending to include they wrote a fresh piece that they felt filled a gap in the book.
Their contribution to the collection is a short story called Excursion. It's a story about killer mermaids, but also a note on allyship.
"At the core of it, it is looking at friendships and the things we do for our friendships, and the things we do for our community. And looking particularly that allyship, not just in terms of people outside the queer community supporting us, but within the queer community too. We're also diverse in that there are different levels of privilege, and sometimes we do have a little bit more privilege, a little bit more power, a little bit more just energy for things, and we should be looking out for each other."
Malacari says they hope the book will allow queer, trans, aromantic and asexual kids to discover some representation that it rarely seen in print, but also thinks non-queer kids will get a lot out of the book too.
"They're stories about friendships, and grief, and family troubles, and finding yourself and things like that. They are just human experiences, so I hope that that helps them to develop a different empathy for other kids." Malacari said.
In Conversation: An Unexpected Party is on at the WA Museum from 6:30pm – 8:30pm on 9th November. A panel of speakers including Pride WA CEO Dr Lauren Butterly, Seth Malacari and writers Em Readman and Jesse Galea will speak about challenging stereotypes in queer narratives and championing diversity.    
Graeme Watson 
---
Do you need some support?
If you are struggling with anxiety or depression, support and counselling are available from:
QLife: 1800 184 527 / qlife.org.au (Webchat 3pm – midnight)
QLife are a counselling and referral service for LGBTQIA+ people.
DISCHARGED: [email protected] / discharged.asn.au
Discharged is a trans-led support service with peer support groups for trans and gender diverse folks.
Lifeline: 13 11 14 / lifeline.org.au
Beyondblue: 1300 22 4636 / www.beyondblue.org.au