Basement Jaxx still going strong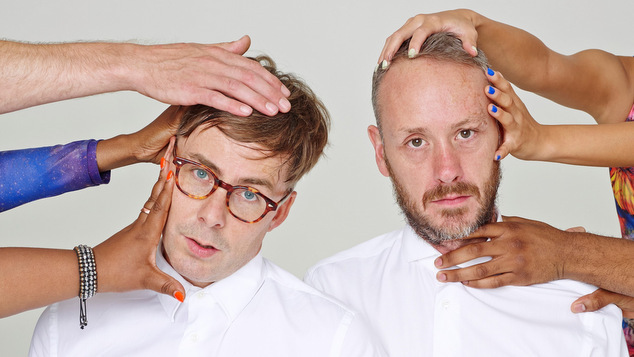 Basement Jaxx will be DJing at Electric Gardens at the Red Hill Auditorium next month, Felix Buxton chatted to OUTinPerth about the duo's long career.
Buxton said it's always good to get away from an English winter and overseas to play the festival circuit.
"It was snowing last night," Buxton shared when chatting on the phone, "We haven't been to Australia for a few years, we used to be going every January. It was always very exciting to jump in the sea and feel the sunshine again."
Excited about heading down under this year, Buxton said the duo's DJ set would have some unexpected elements.
"It's based around house music, like most DJs are, but you'll also hear a little bit of classical music and maybe some Mongolian flute. We've always had an eclectic palette. It's throwing anything into the mix, but its all based in house music."
Since the duo first started playing and making music together over 20 years ago the nature of DJing as changed dramatically. As Buxton highlights, before DJs carried a selection of records with them, today they can have most of their music collection on a USB stick.
"People will want to hear some of the hits, and then we have some new ideas, things that are not finished yet,  alongside good stuff that's around."
Buxton said the duo have a rough idea of what their going to play, and then the other half is chosen 'going with the wind' depending on how the crowd are responding.
Basement Jaxx's last release was 2014's Junto, an album that saw them return to a house music sound after several releases that had a more pop focus.
Since beginning their career with 1999's Remedy, the band has recorded an impressive seven albums of material producing a string of hits including Good Luck, Bingo Bango, Red Alert, Do Your Thing, Romeo and Take Me Back to Your House. 
The band's most well known track is Where's Your Head At? which Buxton said always gets a great response on the dance floor.
While a few years have passed since the band's last release Buxton said there won't be any new music for a while as both he and band mate Simon Ratcliffe have a number of personal projects there working on.
"I was thinking it'll probably be 2019 before there might be a new Basement Jaxx album. We're both busy doing our individual projects. Simon's working with a blues guitarist, I've just produced a romantic guitarist album – a friend of mine Andrea Terrano."
Buxton's also just released a new EP under the moniker Celestial Being, the release which is only available on vinyl is something he describes as "a bit of an art project", as well as producing a record for 80 year old musician Joe Benjamin.
"It's a broad spectrum of creativity, but we're not worrying about Basement Jaxx for now, because it seems like with Basement Jaxx music – everyone else is doing that now. So maybe we don't need to do it in the same way."
"The music that appeals to me at the moment is much more primal, I'm really getting into native Americans just banging drums and stuff like that."
Buxton lists recording an album of lullabies and waltzes and working on a musical as being on his agenda for the future.
Their career has given them the opportunity to work with a range of artists with a wide variety of collaborators appearing on their records. Basement Jaxx also collaborated with the Metropole Orkest allowing their dance music with a full orchestra.
When Cyndi Lauper recorded her dance album Bring Ya to the Brink, Basement Jaxx were one of the production teams she wanted to work alongside.
"Cyndi Lauper, she's cool. It was interesting to meet her, she's a real proper quirky neurotic New Yorker," Buxton said. "Actually, we have a track called I'm from New York which we did with her, it's a house track. I'd forgotten about that. I'll have to go find it."
"If someone's an interesting character they're always great to work with," Buxton declared.
While their collaboration Rocking Chair ended up on Lauper's under appreciated dance record, their underground house tune was released under the name Nifty.
One proposed collaboration that didn't pull off was working with Janet Jackson. While some information online suggests Basement Jaxx recorded tracks with Jackson for her Damita Jo album, Buxton said they never got as far as the studio.
"We had a meeting with Janet Jackson, she was a little bit confused, I think she'd had quite a few meetings with different people. I think she thought we were Zero 7, she'd got us muddled up."
"It tickled my sarcasm button," Buxton laughed when he recalled the meeting, "When we left I said 'Celine Dion – an absolute pleasure to meet you.' We put forward a few ideas but nothing ever happened."
Buxton credits 'giving each other a lot of space' as the secret to the longevity of Basement Jaxx.
"It's like any marriage or similar thing, we've never hung out all the time. We work together, we have fun, we love DJing – but we still have our own individual lives as well.
'It's a yin and yang thing,  he must have a lot of tolerance though because I'm very vocal and always get excited."
"I can't tell him how to be Simon, and he can't tell me how to be Felix." Buxton said.
Basement Jaxx will playing a DJ set at Electric Gardens at Red Hill Auditorium on Saturday February 4th.
Graeme Watson