Beaufort Street Festival Is Coming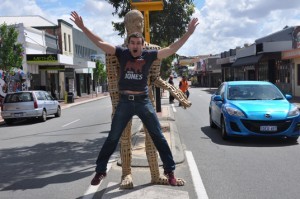 The Beaufort Street Festival will have its third annual outing on Sunday November 17th. It's a community festival that's like no other filled with creativity, surprises and performance, perfectly encapsulating the community spirit of Mount Lawley and Highgate. OUTinPerth caught up with Beaufort Street Festival Co-chair and City of Vincent Councillor John Carey. 
What are you looking forward to most at this year's BSF?
We've concentrated on developing a comprehensive program this year – there's something for everyone. Music, fashion, food, arts and childrens programs – we've got it covered. One major new program is a Micro-Food & Wine Festival which will appear in the Barlee Street car park. I also really like the new massive art project going on at the Highgate Drycleaners. Six artists will be transforming the landmark Highgate Drycleaners corner building into a visual feast of design and colour that will cover everything!
My personal favourite however has to be the Bayswater Vet Festival Dog Show. Last year 102 dogs entered the show and it was pretty popular! You can register on the day at the Bayswater Vet Clinic stall. The dog show kicks off at 3pm. We're even putting in a catwalk for the dog show this year!
What other activities are on in this year's festival?
Music will again be a strong element – with four free music stages, covering indie, pop, jazz and everything in between. We are also making a real effort to cater for families and children but in creative and interesting way.
What do you love most about the BSF?
I really love the atmosphere created on the street. There's a strong community based on Beaufort Street – and it comes out in full colour on the day.  There's a sense of vibrancy, fun and a just a lot of people. More than 70,000 people turned up for the Festival last year, and it was pretty incredible to look down Beaufort Street from Walcott and see a mass of people. Perth needs more of these kinds of events – driven by the community.
It not just about the day itself…but the enormous effort of the Beaufort Street Network and huge team of volunteers who are all working together over months to make it happen. That makes it worth it.