Belinda Carlisle: Mad about you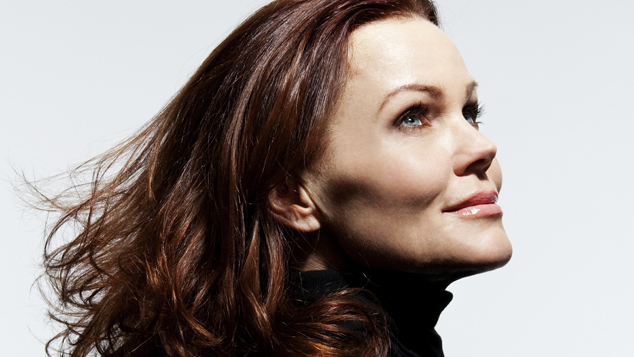 Belinda Carlisle is a pioneer. Most remember her for her massive pop hits, Summer Rain, Leave a Light On and her signature tune Heaven is a Place on Earth, but prior to this hey-day period she was out the front of new wave The Go-Go's.She is also a pioneer on a much more personal level, joining the ranks of proud parents of gay children. Now, post-pop,  Belinda Carlise has returned to being an artist making the kind of music that she wants to make, free of the pressures of the recording industry.
Carlisle's career started in California in the late 1970s when she had a brief stint as the drummer in the punk band The Germs before teaming up with Jane Weidlin, Elissa Bello and Margot Olaverria to form their own band, The Go-Go's. Bello and Olaverria didn't last and were soon replaced by Gina Schock, Kathy Valentine and Charlotte Caffey.
At first the band played punk venues around Los Angeles, but they got their first break in the United Kingdom when they were picked to support ska band Madness and released a demo of their tune We Got The Beat. Even though  the band was drawing crowds, a record contract was hard to come by. Carlisle explained,
'Record companies would come to see us and they wouldn't sign us. They'd tell us, "We love you but you're an all women band and that's never been a success, maybe on a cult level but it's never made the charts".'
Continually knocked back by record companies, Carlisle says the band used to give themselves six months to make an impact…and then another six months. Carlisle gives credit to those all girl bands that appeared before The Go-Go's like Joan Jett's band The Runaways and Jean and June Millington's band Fanny, but in the late 1970s the all girl bands were not common;
'It was obvious to us and everyone around us that we should be signed and making albums and it was frustrating at that time because it was a gender issue. It was really unique… The Go-Go's were the first of their kind because not only did we write and perform our own songs, we did it all ourselves. There was no Svengali, no Simon Cowell – everything was done on our terms.'
In 1981 the band got their big break when they signed with IRS records and released their debut album Beauty and the Beat. The first single on the album, Our Lips Are Sealed, was a sensation – it reached the Top 20 Billboard in America, while here in Australia it rose as high as number two.
Over the next few years the band released another two albums and toured the world until they called it quits in 1985. When the band broke up Carlisle launched a solo career and her first single Mad About You was a radio favourite.
'I think that album only did well in the States, I mean I might be wrong, when I look back on that now I think it was a good transitional album, I think i'm still trying to kind of find my way, as far as direction. I had one great song, Mad About You, so I knew I had that, but it was filling in around that. Luckily at the time I had Charlotte Caffey working with me, my band mate, so that did make the transition a lot easier.'
Two years later Carlisle was back with a second album and a radical transformation; her blonde bobbed hair was gone and replaced with her now trademark long auburn locks; Oscar winning actress Dianne Keaton directed her videos, which were given a high rotation status on MTV; and the album spawned a stack of hit records. Carlisle followed up the success with two more albums churning out chart busting songs. At the time, Carlisle said she was happy to be part of the record company machine and acknowledged that when you're making hit records all a record company want you do is to make more of the same;
'They do, when it's a formula and you're on the hamster wheel with a big record company. I mean the record company wanted Heaven On Earth part two with Runaway Horses, and then they wanted Runaway Horses part two with Live Your Life Be Free. So that's what they want, they want formula, they want to sell to the masses and that was fine at the time.'
When it came time to record her fifth solo album Carlisle stepped away from the songwriters and producers of her most successful records. Carlisle began to write more songs herself  as well as collaborating once again with former band mate Charlotte Caffey.
'I'd say Real was the beginning of going, OK, well I don't want to be doing what everyone tells me to do.'
The album's cover featured Carlisle wearing no makeup and while it didn't chart as well as her previous records it was something she had greater involvement in. Shortly after the album's tour and promotional duties were completed, Carlisle moved with her husband, Morgan Mason, and son James to France – a country they were to call home for the next 19 years.
Carlisle's most recent album Voila is a collection of classic French songs, performed in French. Carlisle joked that the album allowed her to unleash her inner chanteuse;
'Voila was a complete labour of love, and I was given complete freedom to do whatever and whenever I wanted to do. You know, if I wanted to have accordion on my album, which I did, and whistling, I've always wanted that on my album, we just did everything. And that was the most freeing, enjoyable experience.'
Carlisle's French experience is coming to an end though; she's currently in the process of moving back to the United States.
'I think we always knew we'd go home in the end, not that it's the end for me, but you know, my son is almost twenty, he lives in LA, you know my parents are there…. I miss my friends now, so it's just time to go back. For me Europe is over as far as it being a fulltime thing. I'm going to go back home.'
Carlisle's son James Duke Mason is an aspiring actor, who declared to his parents that he was gay when was he was just fourteen. Last year he founded the Trail Blazers campaign – a YouTube campaign that encourages actors to come out and last month he became the youngest person ever to join the board of Outfest, LA's gay and lesbian film festival.
Carlisle speaks candidly about her reaction to her son's announcement and why she has publicly shared her experience as a parent of a gay teenager,
'I've always been open, but my son is more open than me about his sexuality, so I thought it was important to talk about because, as we know, there are plenty of parents who aren't accepting at all of their gay children which frankly I don't understand at all. Of course I'm totally gay and lesbian friendly; ninety percent of my friends are lesbian and gay. But at the same time, when my son told me that he was gay, and I was driving, I still had to pull over to the side of the road and catch my breath and go "whoa", you know.
'Then of course you go through all the clichés, like I did in my brain, "Was it something I did? Or said?" All those stupid things and then once you get past that there's much more important things on the agenda, like "how do I tell my husband?", all the concerns about how my son is going to be able to… is he going to have a harder time in this world?
'So I do think it's an important thing to share because there are also plenty of parents out there who are confused by their children coming out and there are plenty of children out there who are afraid to come out to their parents.'
Carlisle is clearly very proud of her son's achievements;
'My son has always had a really strong sense of who he was and has never looked back. I mean, I think he's pretty amazing because at the time he was 14 and to really know who you are and really not want to hide and to be proud, he's an amazing person.'
Today Carlisle is exploring new musical territories; alongside her French recording she's spent time in the cast of the West End production of Hairspray playing Velma Von Tussle. Carlisle also has new music coming out soon but she's not sure yet what form it will take;
'I don't know what format yet, I mean the industry has changed so much. I've been approached about doing albums but I'm not really interested in that anymore. I don't know if it's going to be an EP or a single or whether it's going to be internet or video… there are so many exciting ways to do things now.
'I mean I've never really had the experience of doing anything other than album…press… tour…
'I did my single, which hasn't even…  the overdubs haven't even been finished, but I did it live and it was on YouTube the next day and it was like, you know, it's getting a big buzz, but it's like "can't you guys wait until I actually finish recording and work out the bugs?!"  But there's so many ways to reach the masses and do things and I think it's really fun.'
Belinda Carlisle will be performing at The Astor Theatre on Saturday March 17
Written By Graeme Watson