Ben-Hur star says no need for gay subtext in remake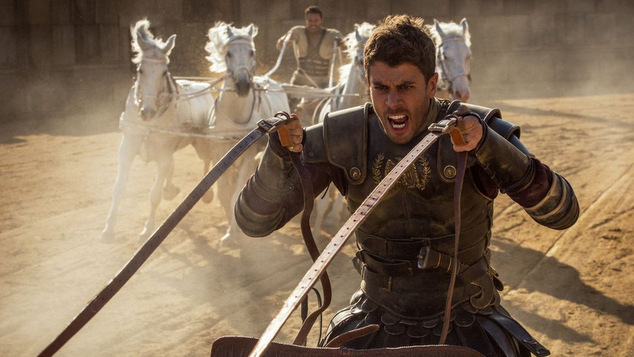 When 'Ben-Hur' hit the big screen back in 1957 it was the blockbuster of it's day. Sporting the largest budget a film had every received.
The epic story brought to life the tale of Judah Ben-Hur, a Jewish prince, and his battle against Messala, his adoptive brother who after leaving the family had joined the Romans.  It also has a few legendary chariot races too.
Gore Vidal, one of the many writers on the film, said that when they were making the movie director William Wyler has asked actor Stephen Boyd, who played Messala, to play the role as if he was a spurred lover.
Vidal first made his claim in the documentary 'The Celluloid Closet' which came out in 1995. Actor Charlton Heston said the writer's claims weren't true, but director William Wyler subsequently said they just didn't tell Heston about the gay sub plot.
Regardless of who you believe, people had speculated that there was something going on between Ben-Hur and Messala for decades before Vidal's revelation came to light.
Actor Toby Kebbell, who plays Messala in a new film version of 'Ben Hur', has said there is no need for a gay subtext in the latest adaptation which will be opening in cinemas soon.
Speaking to Associated Press at the films Los Angeles opening the actor said when making the new version they hadn't considered including an overtly gay subplot.
"It wasn't something we avoided but it wasn't something we had.
"In 1959, the gay context was very important. They need a voice. You shouldn't have to hide in the dark about something you feel and you're grown with.
"That was their own thing they wanted to portray and we didn't need to. It's a different time, thankfully." Kebbell said.
The new version of the film is based less on the earlier movie and more on the original source material, the 1880 novel by author Lew Wallace. The new film is produced by Mark Burnett and his wife actress Roma Downey.
Burnett is the successful producer behind a host of reality TV shows including 'Survivor', 'The Voice', 'Shark Tank' and 'The Apprentice'. While Downey is best known for starring in nine seasons of the TV show 'Touched by an Angel'. Together the pair produced the popular 10 hour TV series 'The Bible'.
At the LA opening Downey said she wasn't even sure if there was a gay subtext in the 1959 version of the story.
"I don't even know if that was true in that film," Downey told Associated Press. "Here we have two brothers. They love each other. They're raised in the same household and it's so tragic to see their family just ripped apart."
The new version of Ben-Hur opens in Australian cinema's on August 25th. 
OIP Staff