Bibliophile: After Alice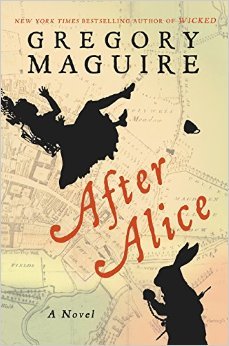 After Alice
by Gregory Maguire
Harper Collins
Gregory Maguire is famous for rewriting fairy tales and this Friend of Dorothy is best known for his 'Wicked' collection of tales which has been celebrated in the Tony Award-winning musical. 'After Alice' coincides with the 150th anniversary of Lewis Carroll's 'Alice in Wonderland' and it also draws on the later book 'Through the Looking Glass'.
In 1865, on Midsummer's Day in Oxford, 10 year old Ada Boyle wants to get away from the domestic chaos created by her newly born and fractious brother. She escapes from her nanny and goes to visit her friend Alice with a jar of marmalade. Ada wears an uncomfortable body brace for her deformed spine and Alice is her only friend. Unfortunately, even though Alice's sister Lydia is sitting in the shade of the trees, Alice seems to have disappeared.
Things get curiouser and curiouser when Ada gets swallowed up by the ground and falls down a cylindrical shaft made of stones, shedding her bothersome exoskeleton along the way. In search of her friend, she meets the Cheshire Cat, The White Knight, Humpty Dumpty, The Hatter, the demanding Queen of Hearts and The Jabberwocky.
Meanwhile, back at Alice's place, her father is entertaining Mr Charles Darwin and his American companion Mr Winter who is from America and has a child with him. While they discuss philosophy, the bored child manages to escape and pretty soon all the adults are searching for the three missing children.
The topsy-turvy world of Wonderland doesn't care about limitations of the physical world and plays with logic and language to produce playful confusion. At one level, tales from Wonderland are childishly entertaining but Lewis Carroll's original works and Maguire's latest addition are drawn on a social fabric that existed 150 years ago.
Much of the original symbolism has been lost. The jar of marmalade, for example, could have symbolised Protestantism (the William of Orange connection). Psychoanalytical interpretations of Alice's world could fill volumes.
'After Alice' combines old and new understandings of Alice's underground world to produce a quite adult tale. If you are bored and looking for adventure then Maguire's latest book is full of intrigues in a place that seems quite familiar.         
Lezly Herbert