Bibliophile | I Had Such Friends begins with the end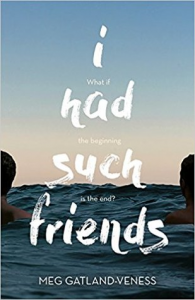 I Had Such Friends
by Meg Gatland-Veness
Pantera Press
It all started when a kid died. A year 12 guy was driving his girlfriend home from a Saturday night party. The car skidded and crashed as he tried to avoid a dog. Charlie Parker died and the girl, Annie Bower, was in hospital with minor injuries. The collective grief was enormous because school captain Charlie was the most popular guy in the school – one of those guys who actually stood a chance of getting out of the rural town.
It seemed as if everyone in the town was affected except Hamish Day, the "first-rate loser jerk" who lived on a cabbage farm and had only one friend. The only kid who got picked on more than Hamish was his default friend Martin. Martin was overweight, had acne, asthma, braces and thick glasses. Both were mercilessly bullied but Hamish managed to escape to the school darkroom at lunchtimes.
When Hamish bumped into Annie after her release from hospital, he saw that she was unbelievably sad. "The kind of sad that fills your body and wears you down so you can't move. The kind of sad that makes it difficult to wake up, walk or talk." The kind of sad that Hamish felt when his younger sister died. Annie saw something in Hamish and the school reject began hanging out with the prettiest girl in the school.
To further turn his world upside down, classmate Peter Bridges stopped at the bus stop one day and offered him a lift home. Ace footballer Perth rarely attended school but instead of splattering Hamish's face into the pavement, he just wanted to hang out. Both Annie and Peter wanted someone to confide in and Hamish found himself pulled into the lives of the people Charlie left behind. He discovers so much about grief, about having to keep secrets, about the people around him and about himself.
I was deeply affected by what unfolds in this Australian drama that is targeted to young adults. Megan Gatland-Veness, who teaches Drama at high school on NSW's Central Coast, has plumbed the deepest of teenage concerns about prejudice, bullying, sexuality, abuse, neglect, unrequited love and suicide. She questions "What if the beginning is the end?" What if another kid dies and the whirlpool of bigotry, shame and helplessness is repeated over and over again in communities all around the world? What if young people find it impossible to live their truths and are crushed (physically and psychologically) by retrograde beliefs? What if this is happening now? What can we do about it?
Lezly Herbert
 After some new books? Head to the Book Depository