Boy George's pal Marilyn returns with crazy new tune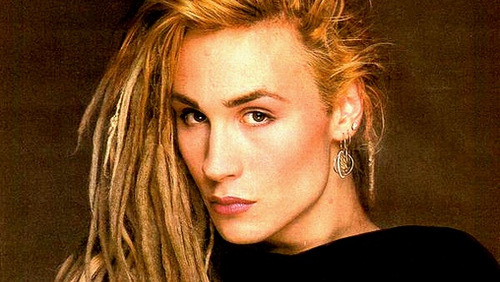 After decades out of the music industry Marilyn's got a new song and a video that pokes fun at Hilary Clinton and Donald Trump.
Back in the '80s alongside Boy George was his best mate Marilyn.
The pair both lived in the same London squat before finding fame. Marilyn, whose real name is Peter Robinson, was a regular at the Blitz club where George worked as the coat check girl.
After George scored world wide hits with Culture Club, Marilyn also managed to get a record contract and released a series of singles in the mid-80s.
Marilyn had a decent hit with Calling Your Name and Baby You Left Me  is another memorable tune.  He also appeared on the Band Aid single Do They Know Its Christmas? When he visited Australia for a promotional tour in 1984 he was mobbed by fans.
Sadly by the time his debut album came out in 1985 the heat and gone off his music career and the album didn't sell well.
Robinson disappeared from public life and in interviews has talked about his battles with drug addiction. Back in 2015 he appeared alongside Boy George and Geri Halliwell on a celebrity edition of the UK version of Gogglebox.
Now he's revealed some new music that's been produced by Boy George. George's has just posted a teaser video for Marilyn's ska song Wrongun. The video features a comical clip of Hilary Clinton and Donald Trump.
Back in September the pair appeared on the British TV show Loose Women and talked about their long friendship and working together again.
Marilyn revealed that host Janet Street Porter had been one of the first people to interview him back in the '80s and he said he was terrified of her.