Cale Street Festival brings something new to Midland this Sunday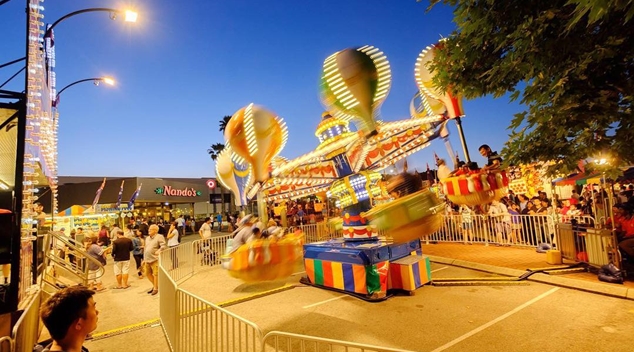 The inaugural Cale Street Festival will bring all the fun of the fair to Midland on Sunday 24 February.
Showcasing the invigorated Cale Street precinct, the area is set to come alive between 2-8pm as the local community celebrates all that Summer offers with family friendly activities, market stalls, live music and delicious food outlets.
Highlights of the Cale Street Festival will include:
live Summer music including funk from Grooveasaurus, blues and folk songs from Malachy, improvised beats from The Sonic Manipulator and local musician Adam B Harris
A community stage highlighting local performers such as Double Take Dance, Midland Dance Studios, Zahara Dance Company and Chung Wah Ladies Dancing Team
Martial arts demonstrations and workshops by Perth Wing Chun
a variety of food experiences with alfresco offerings from local restaurants and cafes
pop-up street bars
family fun including carnival rides, a special zone of free activities, animal farm and plenty more for the kids
learn to belly dance with an interactive workshop
plenty of retail therapy with local business specials and market stalls
roving entertainment performing around the festival all day including Swingin' at the Savoy, a taste of samba from The Bossanovas and pirate band Rumskull
beat the heat with a spectacular double water slide
take a step back in time with the Remember Midland Historical Photo Gallery
Festival Co-Director Ken Allen said the festival was shaping up to become an integral part of Midland's identity.
"Street festivals are exciting, fun and inclusive", said Ken. "They're growing in popularity across Perth and they're a sign that a suburb has 'arrived'.
Festival Co-Director Tabetha Vagliviello says street festivals are a gathering of entertainment, food and most of all, culture.
"Most importantly, a street festival like Cale Street is a very public expression of how good a neighbourhood can be."
The full program for the Cale Street Festival can be downloaded from here.
The Cale Street Festival is presented by Midland Gate, powered by Synergy and supported by premium community media partner Community Newspapers and the City of Swan.
Source:- Media release
Image:- Facebook