Campdown – What Made the Cut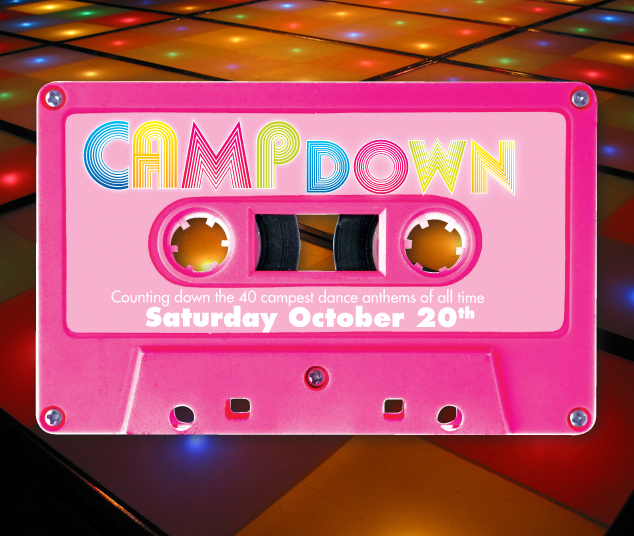 A huge crowd came out on Saturday night for OUTinPerth's Campdown party at the Honey Lounge. Over 100 people attended and all the income from ticket sales is being donated to Pride WA.
Here's which songs made the final top 40, based on readers votes, and the exact version of the tune we played on the night.
40.          Yazz – Stand Up For Your Love Rights
39.          The Bangles – Walk Like An Egyptian
38.          Chaka Khan – I'm Every Woman
37.          Sylvester – You Make Me Feel (Mighty Real)
36.          Aqua – Barbie Girl
35.          Spice Girls – Spice Up Your Life
34.          Pet Shop Boys – New York City Boy
33.          Madison Avenue – Don't Call Me Baby
32.          La Bouche – Be My Lover
31.          ABBA – Gimme Gimme Gimme (A Man After Midnight)
30.          Shania Twain – That Don't Impress Me Much
29.          Madonna – Into the Groove
28.          Bananarama – Venus
27.          Alicia Bridges – I Love the Nightlife (Real Rapino 7 inch)
26.          Spice Girls – Wannabe
25.          Donna Summer – I Feel Love (Rollo & Sister Bliss Remix)
24.          Corrona – Rhythm of the Night (Rapino 7" edit)
23           Scissor Sisters – Filthy / Gorgeous
22.          Ricky Martin – Livin La Vida Loca
21.          The Vengaboys – We Like To Party
20           Snap – Rhythm is a Dancer
19           Paul Lekakis – Boom Boom (Let's Go Back to My Room)
18           C+C Music Factory – Gonna Make You Sweat (Everybody Dance Now)
17           Dead or Alice – You Spin Me Round (Like a Record)
16           Culture Club – Karma Chameleon (Ledge Music Electro 80's Mix)
15           Kylie Minogue – Better the Devil You Know
14           Culture Club – Do You Really Want To Hurt Me
13           Madonna – Express Yourself (Album Version)
12           Frankie Goes to Hollywood – Relax (MCMXCIII Version)
11           Diana Ross – I'm Coming Out
10           ABBA – Dancing Queen
9              Cher – Believe
8              Madonna – Vogue (12 inch remix)
7              Wham – I'm Your Man
6              Whitney Houston – I Want To Dance With Somebody (Junior's Handbag Mix Edit)
5              Soft Cell – Tainted Love
4              Sister Sledge – We Are Family (Sure is Pure Remix)
3              Village People – Can't Stop the Music
2              Gloria Gaynor – I Will Survive
1              Weather Girls – It's Raining Men
Check out our interview with Martha Wash from 2011, she's the only person to appear on the countdown three times, she sings backing vocals on Sylvester's song You Make Me Feel, Mighty Real, contributes the lead vocal to C+C Music Factory's Gonna Make You Sweat (Everybody Dance Now) and she's one half of the duo who took out the top spot, The Weather Girls.
Also making multiple appearances on the countdown were The Spice Girls, Madonna, Culture Club and songwriting duo Nile Rodgers and Bernard Edwards from the band Chic, who wrote both Sister's Sledge's We Are Family and the Diana Ross hit I'm Coming Out.
Take a look at the photos from this event.
OIP Staff