Cartoonist Bill Leak portrays LGBTI lobby as Nazi soldiers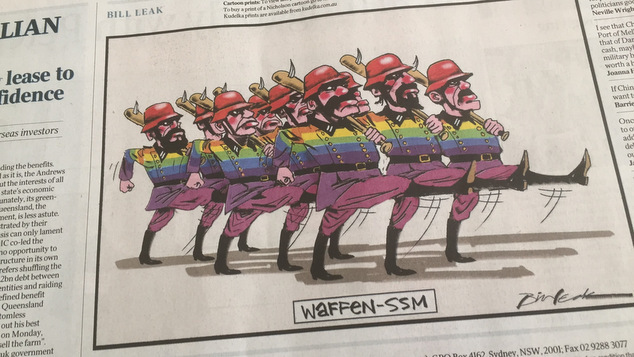 Controversial cartoonist Bill Leak has taken aim at the LGBTIQ community with a portrayal of the Australia's queer community as Nazi soldiers.
The cartoon which appears on the letters page of today's edition of The Australian. The cartoon is titled 'Waffen SSM' a word play on the Nazi's Waffen SS and the initials for Same Sex Marriage (SSM).
Leak was heavily criticised earlier this year for a cartoon where he depicted an indigenous father and a policeman, where the father did not know the name of his own son. In August Leak was awarded 'Cartoonist of the Year' at News Corp's annual awards ceremony.
The cartoon comes as the LGBTIQ community faced criticism for shutting down a meeting traditional marriage groups had planned to hold at the Mecure Sydney Airport Hotel.
A meeting between Sydney Anglicans, Sydney Catholics, the Marriage ­Alliance and the Australian Christian Lobby was forced to relocate after the hotel's staff received a barrage of complaints for hosting the gathering.
A spokesperson for the hotel has told OUTinPerth that the calls staff received contained "unsavory and threatening" comments. The spokesperson would not confirm if death threats or threats of violence were made to staff at the hotel.
The hotel said it had cancelled the booking because they had concerns for the safety of staff and guests.
SBS Comedy tackle the cartoon
Leak's cartoon has been criticised by broadcaster SBS where Ben McLeay published an article on the SBS comedy site. McLeay's article has drawn a reaction from News Corp's Andrew Bolt, who described the article as abuse rather than comedy.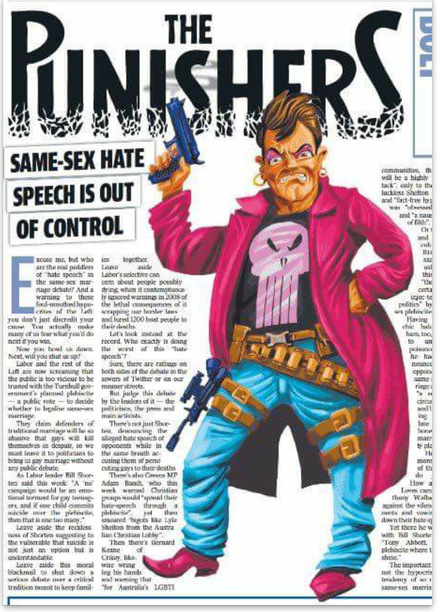 The outspoken columnist and SKY News host had his own cartoon portraying the LGBTIQ community as a violent extremist just last week.
Bolt's September 14th column that criticised Labor leader Bill Shorten for suggesting the plebiscite may lead to an increase in suicides of LGBTIQ+ teenagers.
The print version of Bolt's column featured a cartoon of a man in a pink jacket and matching shoes brandishing a firearm.
In his article the columnist said there was a tendency for many people who support same sex marriage to dehumanise their opponents.
"The important issue here is not the hypocrisy. It is the tendency of so many in the same-sex marriage push to dehumanise, demonise and abuse their opponents."
SBS comedy published a second article on the issue later in the afternoon mocking Prime Minister Malcolm Turnbull for suggesting the the plebiscite debate would be civilised.
---