Catholic Bishop: Children of gay parents will be next 'stolen generation'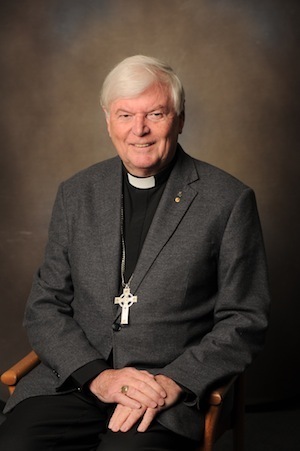 A Catholic Bishop in South Australia has described the children of gay and lesbain couples as Australia's next "stolen generation".
Bishop Greg O'Kelly, the Bishop  of Port Pirie, has written a letter to his parishoners stating that comparing homosexual relationships to hetrosexual relationships was like comparing apples and pears.
"The nature of a marriage between two same-sex people and the marriage between a man and a woman open to life … are two very different things," Bishop O'Kelly wrote in the letter.
"A pear is not an apple, no matter what you say, even if you start to redefine the term from its traditional one, it doesn't alter the reality."
The bishop wrote that the children of gay parents would compare themselves to Australia's stolen generation.
Rodney Croome from Australian Marriage Equality has labeled the remarks offensive.
"Many same-sex couples and their children will be deeply offended by the Catholic bishop's drawing a link between their loving families and the Stolen Generation, such a traumatic episode in Australian history," Mr Croome said.
Speaking to ABC Radio Bishop O'Kelly said that marriage was about love between a man and a women and having children,
"There's two elements to marriage: one is the love between a man and a woman, the other one is the procreative thing, the openness to birth and life," Bishop O'Kelly said.
Rodney Croome has highlighted that the Australian Marriage Act does not have any requirements for couples to have children.
"We have to remind ourselves that the Marriage Act does not require marrying heterosexual partners to want to have children, or to be able to have children.
"There is no legal link between marriage and children. But I understand that in many people's mind there is a cultural link.
"Marriage can be good for children, because it provides them with a greater sense of security and stability in their lives.
"If that is the case, then why would we deny the children being raised by same-sex couples the opportunity to have married parents?" Mr Croome told the ABC.
The South Australian Bishop is not alone in his concern about the creation of a second 'stolen generation'. David van Gend head of the Australia Marriage Forum has also expressed similar sentiments and criticised Labor leader Bill Shorten for introducing his marriage equality bill.
"His Labor predecessors have wrung their hands and apologised for past policies that broke the primal bond between the generations, but Bill Shorten is ready to do it to children all over again.
"In 2013 the then Labor Prime Minister Julia Gillard made a national apology for the abusive policy of forced adoption, lamenting how it violated "the most primal and sacred bond there is: the bond between a mother and her baby".
"In 2008 the then Labor Prime Minister Kevin Rudd made a national apology for the abusive policy of forced separation of aboriginal children from their parents, saying "the act of physically separating a mother from her children is a deep assault on our senses and on our most elemental humanity".
"Now, in 2015, our alternative Labor Prime Minister wants a whole new abusive policy that would forcibly separate children from their biological mother by allowing two men the right to marry and start a family." Mr van Gend said in a statement.
It's not the first time Dr van Gend has labeled the children of gay people 'a stolen generation', back in 2011 when he was a spokesman for the Family Council of Queensland he wrote an opinion piece for The Courier Mail.
On that occasion Dr van Gend argued that gay people could choose to stop being gay, describing homosexuality as "a potentialy treatable spchological condition". Dr van Gend cited research from the USA by Dr Robert Spritzer. The research has subsequently been discredited and Dr Spritzer later apologised for the findings.
OIP Staff
This article was originally published with the title 'Bishop: Children of Gay Couples will be the next 'Stolen Generation'.